The Artists
Eugene von Guerard
Biography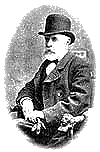 Eugene von Guerard
La Trobe Picture Collection
State Library of Victoria
At times his biographers have preferred Eugen rather than Eugene, for von Guerard signed his name in this German form. However the style used here, and also used by the National Gallery of Australia is Eugene.
Johann Joseph Eugene von Guerard, artist and teacher, was born on 7 November 1811, in Vienna at number 5, Goldene Birn, which was adjacent to the Palais Auersperg. He was the son of Bernard von Guerard and his wife, Josepha Schulz von Leichtenthall. His father was a painter of miniatures and in 1807 was made Court painter to Emperor Franz I of Austria. His mother was the daughter of a Field Marshall in Vienna.
Eugene showed artistic talent at an early age, and he travelled with his father to Italy in 1826. He visited Venice, Milan and Turin, and studied with his father the art of the old masters exhibited in these cities. In 1830, the pair travelled to Rome, where Bernard von Guerard held an exhibition in 1831. Here in Rome, Eugene attended an art school directed by Giovanibattista Bassi.
In 1832, Eugene travelled with his father to Naples, where his father worked on his portrait miniatures as well as landscapes for the Bourbon Court of the Kingdom of the Two Sicilies. Eugene worked on his landscape paintings, which attracted the patronage of Dowager Queen Maria Isabella.
For the next four years, Eugene and his father remained in Naples, with occasional visits to Southern Italy as well as Sicily.
On 11 November 1836, Bernard von Guerard died in Naples of cholera, and after his death, Eugene remained in Naples, studying and working for another two years.
One of the works he later produced in 1859, was 'Tempio d'Apollo et Lago d'Averno', which was a landscape depicting an old ruined temple in Naples.
In 1838, Eugene travelled to Dusseldorf, where his father had been born and trained as an artist. Around 1839, Eugene enrolled in the Kunstakademie at Dusseldorf. The director of this art academy was Wilhelm von Schadow, and Eugene's landscape art teacher was Johann Wilhelm Schirmer.
Eugene was enrolled in the Dusseldorf Academy for five years, and during this time made sketching trips to the Rhineland, as well as Holland, Belgium, and France. While on these trips he also, for inspiration, visited many major art galleries, and he described the experience as having 'a good many occasions to see the finest works of art and to form his taste and expression'. During this time he regularly exhibited his works in Berlin and Leipzig.
He completed his studies in Dusseldorf in 1845 or 1846, and around 1848 left Dusseldorf.
It is unclear where he travelled over the next four years, although there is speculation that he may have tried his luck on the Californian goldfields. What is known is that he was in London in 1852, where, it is recorded, that he met a group of Frenchmen preparing to depart for the goldfields in Victoria, Australia. Eugene joined their party, and sailed for Australia from Gravesend, London on 17 August 1852 aboard the Windermere.
Eugene von Guerard arrived at Geelong, Victoria on 24 December 1852, and boarded a small steamboat for Melbourne. Two weeks later he headed for the Ballarat goldfields.
He spent the next sixteen months prospecting for gold in the Ballarat region, and while there, made many pencil and pen and ink sketches of the goldfields and the mining districts around Ballarat.
In April 1854, he left the goldfields and travelled to Melbourne, where he hoped for more success as an artist.
On 15 July 1854, he married Louise Arnz of Dusseldorf, at St. Francis's Church in Melbourne.
One of the first panoramic oil landscapes he produced in Melbourne was a view of Melbourne from Mount Dandenong. Many more works were produced in 1854, from the sketches he had made while prospecting around Ballarat. These include works such as 'I have got it', 'Aborigines met on the road to the diggings', 'Ballarat Flat: View from Golden Point and Flat, with part of Black Hill, as seen in July 1853', and 'Warrenheip Hills near Ballarat'.
Ballarat township was later depicted in his pen and ink work 'Ballarat from the Tower of the Western Fire Brigade', 1870, and a later 'sunset' work depicting prospectors was his 'The Gold Diggings at Ararat', 1871. 'The Gold Diggings at Ararat', companion 'sunrise' work 'Rose's Gap at the northern end of The Grampians', was also painted in 1871.
He showed eight of his works, including 'Aborigines met on the road to the diggings', 1854, in the Melbourne Exhibition of 1854, which was staged in connection with the Exposition Universelle de Paris of 1855. He also exhibited works in 1854, in the window of Messrs. Wilkie & Webster's Music Shop in Collins Street, Melbourne.
Unfortunately, von Guerard found it difficult to sell his paintings, and to generate income decided to hold a lottery of his works at the Mechanics Institute in Melbourne in February 1855.
In May and July 1855, he completed his first two sketching tours 'beyond the environs of Port Phillip', to sites in South Australia and Tasmania. He also produced during this year, his botanically accurate and geographically detailed landscape work 'Tower Hill'.
Eugene von Guerard continued with his pen and ink and pencil sketching trips for the next fifteen years, and his travels took him to many of the remote areas of Victoria, Tasmania, South Australia, New South Wales and New Zealand.
In 1856, he toured the Western District of Victoria, and in October, became an active member of the newly founded Victorian Society of Fine Arts, Melbourne. In December, he exhibited three works in the Victorian Exhibition of Art, held in Melbourne.
In 1857, he again visited the Western District of Victoria, and was in Camperdown in March. Later that year, he exhibited a number of views of Tasmania in the first exhibition of the Victorian Society of Fine Arts, Melbourne.
On 4 December 1857, his daughter, Victoria Elizabeth was born. During this year he painted what is now considered by many as one of his major oil paintings 'Ferntree Gully in the Dandenong Ranges'.
He developed a number of major oils from his sketches of the Western District. These include 'View of Mount Abrupt taken from the south side of The Grampians', 1856; 'Mount William from Mount Dryden', 1857, which was exhibited with the Victorian Society of Fine Arts, Melbourne in 1857, and 'Larra Homestead, Mt. Elephant in the Distance', 1857. He also produced the work in which he captured the natural disaster of 1857 'Bushfire between Mount Elephant and Timboon, March 1857', which he painted in 1859.
Another major oil of the Western District that he painted in 1858 was 'From the verandah of Purrumbete'. 'Purrumbete' was the property owned by the Manifold family, who later in 1902, commissioned Walter Withers to produce six murals for display in their house on the property, depicting the history of the Manifold family in Victoria.
In 1858, he accompanied Nicholas Chevalier and scientist, Alfred Howitt on an expedition from the Dandenong Ranges to Mount Baw Baw. Later in the year, he also travelled to Cape Schanck.
In 1859, he again travelled on a sketching trip, this time to the Cape Otway region and various areas of Gippsland.
In November 1859, he made his only tour of New South Wales, and visited Sydney, the Blue Mountains, Lake Illawarra and Wollongong. In 1860, he produced his work 'View of Lake Illawarra with distant Mountains of Kiama', and later in 1866, produced his large, panoramic work 'Sydney Heads'.
In November 1860, he again accompanied Alfred Howitt, this time on a government survey expedition into the mountain ranges above Gippsland.
In 1862, he made a sketching trip to the Goulburn River valley, and in April that year accompanied Nicholas Chevalier on the meteorological expedition led by Professor Georg Balthasar von Neumayer to Loutit Bay and Cape Otway.
In October 1862, he again accompanied Professor Neumayer on an expedition, this time, the magnetic survey of north-east Victoria and Mount Kosciusko, which they reached in mid-November.
Many of the pen and ink and pencil sketches he produced on these expeditions, he later reproduced in oils on large canvases in his studio. Among these panoramic sublime works were North-east view from the northern top of Mount Kosciusko', c. 1864, 'View of the Snowy Bluff on the Wonnangatta River', 1864, and 'Mount Kosciusko, seen from the Victorian Border (Mount Hope Ranges), 1866.
During 1862, Eugene von Guerard and his family, moved to a house called 'Little Parndon' in Gipps Street east, East Melbourne. This was to be his family home for the next twenty years. During the 1850's, he had occupied studios in Collins Street and Bourke Street, Melbourne.
Many of his works were engraved for periodicals, and in 1863, he illustrated the book 'On Australasian Climates' by S.D. Bird.
In April 1863, he travelled to Cape Schanck, and in 1864, travelled to Mount Macedon and various areas of the Western District of Victoria. He also painted at this time his 'North View from Daylesford', 1864, possibly on commission for The Hon. William E. Stanbridge, whilst he resided at the Stanbridge property 'Wombat Park'.
In 1866, eight of his works were exhibited in the Intercolonial Exhibition, held in Melbourne. Amongst these works were 'North-east view from the northern top of Mount Kosciusko', c. 1864 , and 'Spring in the Valley of the Mitta Mitta with the Bogong Ranges', 1866, which was commissioned by Sir Archibald Michie, and presented in November 1866, to the National Gallery of Victoria. This was the first of his paintings to enter a public collection.
Further recognition of Eugene von Guerard's work came in the following year with the successful release of a lithographed album of his Australian landscapes. The album was titled 'Eugene von Guerard's Australian landscapes: A Series of 24 Tinted Lithographs illustrative of the most striking and picturesque features of the landscape scenery of Victoria, New South Wales, South Australia and Tasmania, Drawn from Nature and Lithographed by the Artist with Letter Press Descriptions of each view.' Printed and Published by Hamel & Ferguson, Melbourne, Victoria, [1866-67].
At the time of the release of this album of lithographs, Eugene von Guerard was an active member of the Royal Society of Victoria, and served on its Council in 1866-1867.
He continued with his sketching tours, and in October 1868, travelled to north-west Victoria, and the area around Mount Arapiles. Here he produced sketches of Mitre Rock and the lake from Mount Arapiles, and painted a large oil canvas of this scene in 1874. He travelled on this trip, as he had done many times before, with his painting companion and close friend, Nicholas Chevalier.
In February 1870, he briefly travelled on a sketching trip to the Mornington Peninsula, and on 4 June 1870, was appointed the first Master of the School of Painting, National Gallery of Victoria.
He held this position for eleven years, and his ability as a landscape painter, his credentials, with his experience from the Dusseldorf Academy, and his first hand knowledge of the European masters, gained through his early travels, would have impressed his young students. William Strutt described him as 'delightful' and among his friends and supporters was James Smith, art and literary critic for The Argus, Melbourne, 1856 to 1898.
He became a charter member of the Victorian Academy of Arts and exhibited six works in their first exhibition in 1870. One of these works was his dramatic and powerful maritime work 'Evening after a Gale, Wilson's Promontory', 1870.
1870 proved to be a very eventful year for von Guerard. Apart from his appointment as Master of the School of Painting, National Gallery of Victoria, he was also awarded the Cross of the Order of Franz Josef which was forwarded by the Emperor of Austria to Viscount Canterbury, Governor of the Colony of Victoria.
1870, was also a successful year, with once again, recognition of his artistic ability, with the sale in November of his painting 'Mount Kosciusko, seen from the Victorian Border (Mount Hope Ranges)', 1866, to the National Gallery of Victoria for 157 pounds 10 shillings.
During the 1870's, he continued exhibiting with the Victorian Academy of Arts, as well as having works accepted for the Melbourne Exhibition in 1872, and the Victorian Intercolonial Exhibition in 1875.
Although best known for his majestic panoramic, topographical, and at times sacred, romantic or sublime landscapes, von Guerard also produced a number of powerful works depicting the coastline of Victoria. These included views of Melbourne and Port Phillip Bay, painted in 1854 and 1857; Geelong and Port Fairy, painted in 1856; Apollo Bay and the Cape Otway region, painted in 1859; Cape Schanck, painted in 1863, 1865 and 1873; Phillip Island, painted in 1869, 1872 and 1873, and the Mornington Peninsula and Wilson's Promontory, painted in 1870.
Among these dramatic and topographical coastal works are his 'View of the Granite Rocks at Cape Woolami', painted in 1872, and his 'Port Phillip Bay', painted in 1857.
In January 1875, during his summer vacation break from his teaching at the National Gallery School, he travelled once more on a sketching trip, this time to Tasmania.
In the following summer vacation break, January 1876, he journeyed to Milford Sound in New Zealand, aboard the S.S. Otago. Here he visited Wellington as well as Lake Wakatipu, which in 1884, was visited and painted by Elizabeth Parsons.
One of von Guerard's works of Lake Wakatipu, painted from sketches from this trip, is in the Auckland City Art Gallery.
Works by von Guerard, depicting panoramic views of New Zealand were exhibited in the Victorian Academy of Arts exhibitions for 1877 and 1878, as well as in the Sydney International Exhibition of 1879, and the International Exhibition, held in Melbourne in 1880.
One of the New Zealand landscapes exhibited with the Victorian Academy of Arts in 1877, was 'Milford Sound with Pembroke Peak and Bower Falls on the west coast of Middle Island, New Zealand'.
In 1878, he painted his panoramic landscape of 'Lilydale from the Christmas Hills with the Dandenongs in the Distance'.
He also exhibited in the Exposition Universelle de Paris in 1878, and had previously exhibited in the Expositions of 1855 and 1867.
On 1 December 1881, von Guerard resigned from his position as 'Instructor in Painting' in the School of Painting, National Gallery of Victoria, owing to ill health. He requested a letter of recommendation from the Trustees of the National Gallery of Victoria, for what he described as 'my future position in Europe'.
In the National Gallery of Victoria Report of the Trustees for 1882, it is noted that
'Upon the retirement of Mr von Guerard from the office of Instructor in Painting, the appointment of his successor, was carefully considered by the Committee. Advertisements were inserted in the principal papers of the Australian colonies inviting applications, and the position was eventually offered to Mr Folingsby for three years, and was accepted. The Trustees and the public have every reason to be satisfied with the choice they have made.
Mr Folingsby entered upon his duties as Director of the National Gallery and Master of the School of Art in the month of June, and it was at once apparent that, if his services were to be fully employed, further accommodation for painting rooms, of which there were none, would be indispensable.'
Folingsby was a very different teacher to von Guerard, and from the above report, the conditions in the School of Painting after his appointment were to be considerably improved for both teacher and student. Many of the students would have found Folingsby's teaching methods far less restricting than von Guerard's, and his encouragement of life classes for the male students in his first year of office, was well appreciated by Frederick McCubbin and his fellow male students.
Eugene von Guerard's teaching methods have been described in the Golden Summers catalogue, as being 'based on his own academic training at Dusseldorf: outline drawing, perspective studies, drawing from statues (the Melbourne trustees would not allow a life class for many years), copying lithographs, then advancing to tightly worked copies of Gallery paintings, and only occasional sketches from nature.'
There were also further restrictions on the students in their making of the tightly worked copies of the National Gallery paintings. In the Report of the Committee for 1870, to the Trustees of the Public Library, Museums and National Gallery of Victoria, point 9, stipulated that:
'In making copies from the pictures in the National Gallery, the Committee thought it advisable (to prevent any attempt to pass off 'copies' as 'originals') to follow the custom which prevails at the Royal Academy of England, and order that some detail should be omitted, so that no complete copy of any picture should be made.'
It is understandable however that the young artists of the Heidelberg School found the spontaneity of the plein air painting methods aspired to by Louis Buvelot, far more to their liking, than the laboured, attention to detail landscapes, produced within the studio, by artists such as Eugene von Guerard.
It has been noted that Louis Buvelot produced his many sketches and watercolours and probably his small oils, plein air, however in the case of his larger oils, these were very likely developed from these sketches and watercolours, within his studio.
Eugene von Guerard was very much a pioneer, and was obviously a man of considerable strength and determination, venturing into many remote areas in search of his landscape subjects. He would have, through his teaching, and through having seen his works, influenced many of the younger artists, and at least, he would have opened their eyes to the various landscape opportunities available to those who ventured to remote areas away from the larger townships and cities.
Eugene von Guerard, was also a man of considerable knowledge, and was multi-lingual, fluent in English, French, Italian and German.
On 4 January 1882, Eugene von Guerard, his wife and his daughter, left Australia for Europe aboard the R.M.S. Carthage. They made their way to Dusseldorf, spending two months in Rome, along the way. In 1884, he sent seven works to Melbourne for inclusion in the Victorian Jubilee Exhibition, amongst which was his work 'Barter', 1854, and he sent a further nine works for exhibition in the Melbourne gallery of Alexander Fletcher.
It is interesting to note that James Oddie, who was such a keen supporter of David Davies at this time, also took an interest in the works of von Guerard. Oddie commissioned von Guerard to produce a large Ballarat goldfields work 'Ballarat in the early times; As it appeared in the summer of 1853-54', 1884, which he then presented to the Ballarat Fine Art Gallery on Eureka Day, 1885.
In 1885, von Guerard sent another six paintings to Alexander Fletcher, and it has been recorded that on 20 December 1885, his daughter married Reginald Blunt, a railway engineer from England.
His daughter moved to England, and early in 1891, von Guerard and his wife, Louise, also moved to England to live with their daughter. Louise died soon after, in London on 12 March 1891.
Over the next ten years, von Guerard remained in England, with the occasional short holiday to the Lake District, and to St. Ives, Winchelsea and Walberswick.
With the financial crash and banking collapse in Australia in 1893, it is reported that von Guerard lost all his investments in Australia, and lived the last years of his life in poverty.
He died on 17 April 1901, at the age of 89, and is buried in Brompton Cemetery, Chelsea, England, next to his wife.
Mount Von Guerard in the Alpine National Park in the far north-east of Victoria, stands as a reminder of Eugene von Guerard, and was named in recognition of his outstanding ability as an artist, his contribution to science and his pioneering spirit.
Since his death, his works have appeared in many major exhibitions, and these include:
The Australian Landscape 1802-1975, Visual Arts Board for Peking, Nanking, and the Art Gallery of New South Wales, 1975.
Australian Art in the 1870's, Art Gallery of New South Wales and National Gallery of Victoria, 1976.
Outlines of Australian Printmaking, Ballarat Fine Art Gallery, 1976.
Eugen von Guerard, Australian National Gallery Touring Exhibition, 1980.
Golden Summers: Heidelberg and Beyond, curated by the National Gallery of Victoria, 1986.
Left: Arthur Streeton - Above Us The Great Grave Sky, 1890
Collection: National Gallery of Australia, Canberra.