The Artists
Eugene von Guerard
EUGENE von GUERARD
EVENING AFTER A GALE,
WILSON'S PROMONTORY, 1870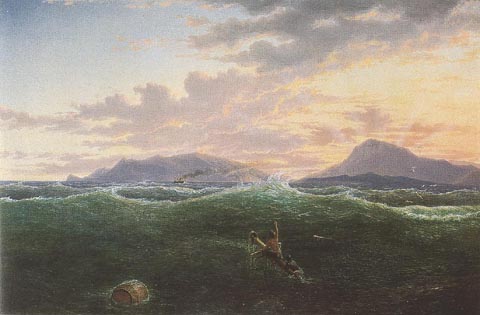 EUGENE von GUERARD
Born Vienna 1811, Died London 1901
EVENING AFTER A GALE,
WILSON'S PROMONTORY, 1870
oil on canvas, 35 x 53.5 cm
Private Collection
This dramatic work depicts two figures clinging to the mast of their sunken vessel that has been destroyed in a gale. One figure is gesturing to a passing steamer in the hope of being seen and rescued.
The work was exhibited in the inaugural Victorian Academy of Arts Exhibition, held in Melbourne in 1870, and later exhibited in the Academy of Art Exhibition, held in Sydney in 1874.
Wilson's Promontory, is located 235 kilometres south-east of Melbourne, and was discovered by George Bass in 1798. He named it Furneaux Land in the mistaken belief that it was the peninsula seen by Furneaux in 1773. It was re-named by Governor Hunter after Thomas Wilson, a merchant of London, who traded with New South Wales, and was a friend of Mathew Flinders. In 1898, it was declared a National Park.
This work was offered for sale through Christie's Australia. Australian and European Pictures. April 1994, Catalogue no. 273.
Left: Arthur Streeton - Above Us The Great Grave Sky, 1890
Collection: National Gallery of Australia, Canberra.