The Artists
Eugene von Guerard
EUGENE von GUERARD
BALLARAT FLAT: VIEW FROM GOLDEN POINT AND FLAT
WITH PART OF BLACK HILL, AS SEEN IN JULY 1853, 1854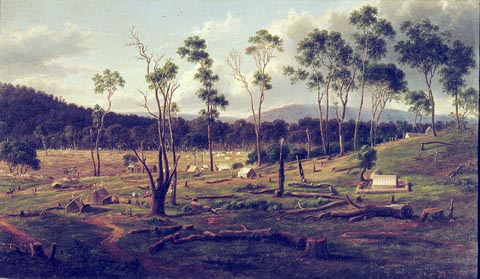 EUGENE von GUERARD
Born Vienna 1811, Died London 1901

BALLARAT FLAT: VIEW FROM GOLDEN POINT AND FLAT
WITH PART OF BLACK HILL, AS SEEN IN JULY 1853, 1854
oil on canvas, 36.0 x 61.4 cm
Gift of James Oddie, 1891
Collection: Ballarat Fine Art Gallery
This work was one of the early works painted by Eugene von Guerard, soon after his return to Melbourne in 1854 from the Ballarat goldfields.
Eugene von Guerard, captures the dark, densely treed Black Hill to the left, and his view, rather than being from Golden Point and Flat, is more a depiction of Golden Point, which is to the left in the work. The work depicts the first stages of early settlement of this area, with more substantial wooden huts being erected, rather than tents, and is a scene of a more permanent lifestyle.
Copyright Notice
No works can be copied from this site. Permission to publish or reproduce can be sought from the Ballarat Fine Art Gallery. All Rights Reserved medialaunch Pty. Ltd.

Left: Arthur Streeton - Above Us The Great Grave Sky, 1890
Collection: National Gallery of Australia, Canberra.