The Artists
Eugene von Guerard
EUGENE von GUERARD
ROSE'S GAP AT THE NORTHERN END OF
THE GRAMPIANS, 1871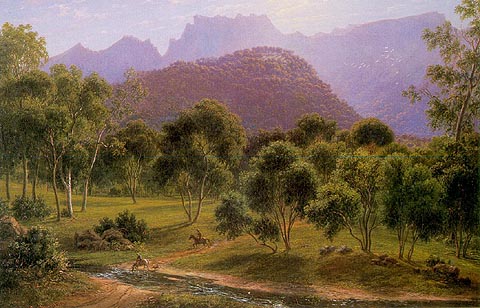 EUGENE von GUERARD
Born Vienna 1811, Died London 1901
ROSE'S GAP AT THE NORTHERN END OF
THE GRAMPIANS, 1871
oil on canvas, 33.5 x 52.0 cm
Private Collection

This work is the 'sunrise' one of a pair of 'sunrise/sunset' cabinet pictures commissioned by W.A. Brahe, Honorary Consul for Germany to the Colony of Victoria.
The companion 'sunset' work is 'The Gold Diggings at Ararat', formerly known as 'Mount Langi Gerang from Pleasant Creek', which is in the collection of the National Gallery of Victoria.
The work was reviewed in The Argus, Melbourne, 17 October 1876, p.6,
'…Mr von Guerard has just completed, for the German Consul, his cabinet pictures representing some of the finest proportions of mountain scenery in Victoria. The subject of one is Rose's Gap at the northern end of the Grampians; and by selecting sunrise as the period of the day depicted, the artist has been enabled to introduce some striking atmospheric effects, more particularly as regards a rift of light between the two mountains, the more distant of which is enveloped in a veil of luminous haze while the nearer stands out in glowing prominence. A flight of white cockatoos gamboling in the first rays of the sun lend life to the scene. The other picture is a view of Mount Langi Gerang from Pleasant Creek and is exceedingly effective by reason of the artist's skillful treatment of his distances…'
Rose's Gap was so named after squatter Phillip D. Rose, who settled in the area at Rosebrook Station in 1843.
This work was offered for sale through Deutscher Fine Art. A Selection of Nineteenth and Twentieth Century Australian Art. 24 May-9 June, 1989, Catalogue no. 6.
Further information:
Eugene von Guerard - The Gold Diggings at Ararat
Left: Arthur Streeton - Above Us The Great Grave Sky, 1890
Collection: National Gallery of Australia, Canberra.