The Artists
Eugene von Guerard
EUGENE von GUERARD
THE GOLD DIGGINGS AT ARARAT, 1871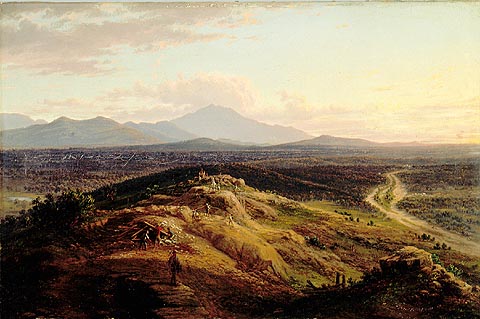 EUGENE von GUERARD
Born Vienna 1811, Died London 1901
THE GOLD DIGGINGS AT ARARAT, 1871
oil on canvas, 34.0 x 51.8 cm
Purchased 1963
Collection: National Gallery of Victoria
The original title for this work was 'View of Mount Langi Gerang (Langhi Gheran) from Pleasant Creek near Ararat 1870', which was reviewed in The Argus, Melbourne, 17 October 1871, p.6.
The work depicts the prospectors at the gold diggings near Ararat, and the long shadows would suggest that time, near the end of a hard day's work.
The work is the 'sunset' one of a pair of 'sunrise/sunset' cabinet pictures commissioned by W.A. Brahe, Honorary Consul for Germany to the Colony of Victoria. The 'sunrise' companion to this work is 'Rose's Gap at the northern end of The Grampians', 1871.
Ararat was named in 1841 by overlander, Horatio Spencer Wills, who noted 'for like the Ark we rested here'.
Gold was discovered in the area in May 1857, and by 1871, the area was home to many prospectors.
Mount Langhi Gheran derived its name from the Aboriginal, for 'home of the black cockatoo'.
Pleasant Creek was an alluvial goldfield discovered in May 1853, and the settlement later became known as Stawell, named after Attorney-General, William Foster Stawell.
Further information:
Eugene van Guerard 'Rose's Gap at the northern end of The Grampians', 1871
Copyright Notice
No works can be copied from this site. Permission to publish or reproduce can be sought from the National Gallery of Victoria. All Rights Reserved medialaunch Pty. Ltd.
Left: Arthur Streeton - Above Us The Great Grave Sky, 1890
Collection: National Gallery of Australia, Canberra.