The Artists
Eugene von Guerard
EUGENE von GUERARD
FROM THE VERANDAH OF PURRUMBETE, 1858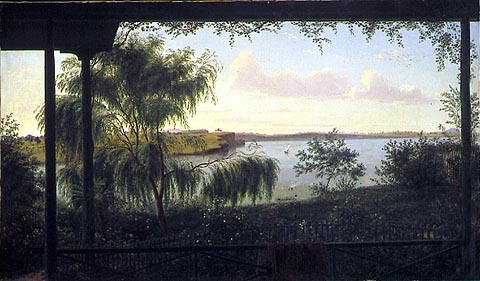 EUGENE von GUERARD
Born Vienna 1811, Died London 1901
FROM THE VERANDAH OF PURRUMBETE, 1858
oil on canvas, 51.4 x 86.3 cm
Collection: National Gallery of Australia, Canberra
'Purrumbete' was the property owned by the Manifold family. The work was first owned by John and Peter Manifold of 'Purrumbete', near Camperdown, Victoria; thence by descent to Mr R. Manifold of 'Wiridgil', near Camperdown, Victoria.
The view is from the verandah of the homestead, across an arm of Lake Purrumbete, towards the old woolshed on Picnic Point. The woolshed is on 'Yumbete' The homestead, which was the second homestead built on the property, was built in 1842, partly of bluestone and partly of weatherboard.
Walter Withers was commissioned to paint murals for the Manifold family to hang in the homestead, and these were completed in 1902. Another view, 'Purrumbete from across the Lake', was painted from Picnic Point by Eugene von Guerard in 1858.
Further information:
Walter Withers - Murals at Purrumbete
Copyright Notice
No works can be copied from this site. Permission to publish or reproduce can be sought from the National Gallery of Australia, Canberra. All Rights Reserved medialaunch Pty. Ltd.

Left: Arthur Streeton - Above Us The Great Grave Sky, 1890
Collection: National Gallery of Australia, Canberra.