The Artists
Eugene von Guerard
EUGENE von GUERARD
LILYDALE FROM THE CHRISTMAS HILLS
WITH THE DANDENONGS IN THE DISTANCE, 1878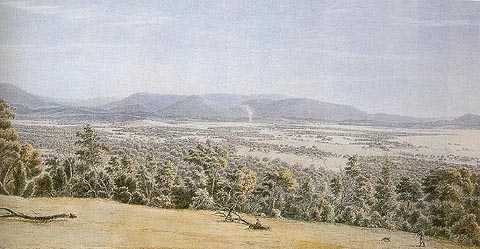 EUGENE von GUERARD
Born Vienna 1811, Died London 1901
LILYDALE FROM THE CHRISTMAS HILLS
WITH THE DANDENONGS IN THE DISTANCE, 1878
39 x 71 cm
Private Collection
This panoramic landscape work was commissioned from the artist by Mr R.A. Ramsay, 'Mouleric' of Birregurra, Victoria.
It was painted from the property 'Banool' in the Christmas Hills, which are situated north-east of Melbourne. The work is inscribed 'Eugene von Guerard 'Banool', 17 December 1878'.
The view provided by von Guerard is towards Lilydale, with Yarra Glen to the left and the Dandenong Ranges in the far distance. Christmas Hills was so named after a shepherd, David Christmas, who worked for Joseph Stevenson, who had settled in the area in 1842.
This work was offered for sale through Christie's Australia. Australian and European Paintings. April 1999, Catalogue no. 158.
Left: Arthur Streeton - Above Us The Great Grave Sky, 1890
Collection: National Gallery of Australia, Canberra.