The Artists
Walter Withers
Biography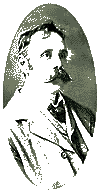 Walter Withers c. 1906
Private Collection

Walter Herbert Withers, artist and teacher and one of fourteen children, was born on 22 October 1854 at Aston Manor, Warwickshire, England. He was the son of Edwin Withers, Roper, and his wife Sarah, nee Welch. He had six brothers and seven sisters.
From an early age, he was sent as a boarder to school at Sutton Coldfield, and later attended art classes at the Royal Academy of Arts, London and South Kensington schools. His father did not share his enthusiasm for art, and wanted his son to follow a business career. To gain business experience his father suggested that he should work abroad, and late in 1882, Walter set forth on a sea voyage to Australia. He broke his journey at Port Said, and arrived in Melbourne on 1 January 1883. He had little money, and decided to work as a jackeroo on several country properties in the Western District of Victoria. He was unsuited to this form of work, which he endured for eighteen months. However, during this time he did meet and developed friendships with a number of wealthy landowners, including members of the Russell family; William Thompson Manifold on his Purrumbete property, and Edmund Edmunds Smith, who owned properties at Point Henry, near Geelong and also at Cowes on Phillip Island. Each of these landowners later commissioned Withers to produce art works for their families.
This time on the land also provided Withers with the opportunity to witness numerous Australian landscapes, and to experience the climate and light conditions of Australia, which were very different from those he had grown up with in England. Withers saw the drovers with their sheep and the farmers working the land and planting and harvesting their crops, and many of these scenes became subjects in his later paintings. Around mid 1884, Withers moved to Melbourne.
He began to paint 9 by 7 ins. (23 by 18 cm) landscape and cityscape sketches in oils, which he placed for sale in city shop windows and for which, he found there was a ready market. He was offered black-and-white-work for periodicals, and was employed as a draughtsman by William Inglis & Co., and next by Ferguson & Mitchell, lithographic printers. His work for these companies included landscapes, cityscapes and portraits. While in Melbourne, Withers attended evening life classes in the School of Painting, National Gallery of Victoria under George Frederick Folingsby, and his work was accepted for exhibition in the Old Academy, Melbourne.
It was at this time that he met Tom Roberts, Frederick McCubbin and Louis Abrahams, who were to become lifelong friends. The trio had been working plein air at the Box Hill Artists' Camp, and Roberts, who had recently returned from Europe, encouraged Withers to travel to Paris.
Withers decided on an overseas trip in May 1887, and having journeyed overland from Naples, via Paris, he arrived in London in June. He visited his family and his old girlfriend, Fanny Flinn, who had greatly encouraged his early artistic endeavours. On 11 October 1887, he married Fanny Flinn in the parish church, Handsworth-with-Soho, Staffordshire. Soon after, they departed for Paris, settling for six months in a flat in Rue Tronchet. Here, Withers met and studied with Emanuel Phillips Fox, Tudor St. George Tucker and John Longstaff at the Academie Julian where he drew from life under the supervision of Adolphe William Bouguereau and Joseph Nicolas Robert-Fleury. On the weekends he toured Paris, visiting major galleries where he was impressed and influenced by the works of Bastien LePage, Monet, Manet and Anton Mauve. While in Paris, Withers received a letter offering him commissioned black-and-white, pen-and-ink work from Ferguson & Mitchell for the illustration of The Chronicles of Early Melbourne by Edmund Finn. Withers accepted the commission, and the couple briefly visited England to farewell relations and friends, before travelling to Italy and returning to Melbourne on 11 June 1888.
They rented a small cottage in Denmark Street, Kew, and the first of their six children, Emily Gladys was born two months later, on 16 August. Here in Kew, Withers established a studio and amongst the many visitors eager to hear of the latest art news from Europe, were Arthur Streeton, Charles Conder, Artur Loureiro and George Rossi Ashton. In October 1889, Fanny Withers decided on a trip back to England to help her ailing father with his business.
In her absence, Withers moved into Charles Davies' farmhouse on his estate in Eaglemont. This he shared with Roberts and Streeton. He was a great believer in tidiness, and dressed in his smart clothes and pith helmet, he would do his best to organize the others. This earned for him the nickname of the 'Orderly Colonel' or 'Colonel', which he was referred to as for the rest of his life. Fanny returned from England with her new daughter Margery who had been born overseas on 13 January 1890, and in September 1890, Withers and his family moved into the mansion on the Charterisville Estate in East Ivanhoe. Here Withers established a studio and began to paint the local scenery. He produced works of the Charterisville property, with its outlook across the Yarra River, as captured in 'Charterisville, near Eaglemont, Victoria', c. 1890, as well as works such as 'The Farm', 1890, which captured the easy going pace and rural lifestyle to be found in Eaglemont at that time.
In April 1891, Withers also established a city studio on the 2nd floor of the Mutual Provident Buildings, at 463 Collins Street, Melbourne. Two other artists, Ugo Catani and George Rossi Ashton also had studios on the same floor at this time. At this city studio, Withers taught private pupils, and also held exhibitions of his work. In May 1891, one such exhibition was very successful, and widely acclaimed. On 1 July 1891, Sidney Dickinson, art critic for The Australasian Critic wrote a review of Withers' city exhibition, and that of Streeton's exhibition on view in the city at the same time. Dickinson noted that the works, mostly painted in the Heidelberg area, could be considered as 'The Heidelberg School'.
This was the birth of the term we use today when talking of the plein air artists of this time. Withers later moved his city studio to Oxford Chambers, at 473-481 Bourke Street, Melbourne, and another move took him to Robb's Buildings at 533 Collins Street, Melbourne. The commercial and financial crash of 1890-1891, put an end to Withers' black-and-white, pen-and-ink work, and Withers considered returning with his family to England. His decision to return to England was also probably strongly considered after the death of his son, Frederick who was born on 5 December 1891. Frederick, named after Frederick McCubbin, died of jaundice, at only five weeks of age. Withers sought advice on his future from his close friend Frederick McCubbin, who was at the time Acting Director of the National Gallery of Victoria. McCubbin found for him art teaching positions at three different schools, amounting to 160 guineas per year. This was the encouragement Withers needed, to stay in Australia.
Years later his daughter, Nan recalled that her father worked at various times as art master in four Melbourne schools, and these were Presbyterian Ladies College, Ruyton Girls School, Melbourne Grammar School, and Emma Bartlett Cook's Private Girl's School, 313 Glenferrie Road South, Upper Hawthorn. Today, Emma Cook's school is known as Tintern Church of England Girls' Grammar School and is situated in East Ringwood.
In 1893, and then later in 1896, Withers visited Creswick, where he taught with the English watercolourist John Miller Marshall plein air during the day, and gave evening drawing classes at the Ballarat School of Mines. Amongst his pupils were Percy, Lionel and Norman Lindsay. In 1894, he rented a house in Cape Street, Heidelberg, and here produced some of his finest work, such as 'A Bright Winter's Morning', 1894; 'Tranquil Winter', 1895; 'The Yarra Below Eaglemont', 1895, and 'The Storm', 1896, which won the first Wynne Prize for landscape painting in 1897.
He again won the prize in 1900, for his work 'Still Autumn'. 'Tranquil Winter' was exhibited in the colonial art exhibition held in London in 1898. During 1898, Withers and his family, now of four girls, Mary being born in 1895, and Nan in 1897, moved from Cape Street to the home he had helped to design, 'Withers Court', Darebin Street, Heidelberg. Here he produced significant works, such as 'The Last of Summer', 1898, and 'Early Morning, Heidelberg', 1898.
In 1900, Withers revived old friendships with the property owners whom he had met while jackerooing. Edmund Smith invited him to stay rent free at his properties at Cowes and Point Henry, and while at Point Henry, Withers produced in 1901, on commission for the Russell family, the work 'A breezy day off Point Henry'. William Thompson Manifold commissioned him in 1902 to produce in six large panels the story of the Manifold's settlement of that part of the Western District of Victoria. The panels were painted in a high colour key in an Art Noveau style. He also produced for W.T.Manifold a seventh panel, representing Spring. In the midst of all this work, a son Charles Meynell, was born on 5 February 1902. The commissions provided Withers with the means to buy 'Southernwood', a house on 2 1/2 acres (1.01 ha) at Eltham on 7 June 1903. He added a studio to the house, but due to ill health, he lived during the week at his city studio in Oxford Chambers, and at weekends and holidays with his family in Eltham.
Eltham provided him with a wealth of subject matter. There were many quiet country roads, and the drovers and horses and sheep and cattle and geese. There were gullies with towering Manna gums, and orchards full of fruit. Withers captured Eltham in many important works such as 'Country Road', c.1898; 'On the Eltham Road', 1906; 'The Silent Gums', 1909; 'Spring', c.1910; 'Landscape with Sheep', and 'The Drover', 1912. Withers also produced works of Warrandyte, such as 'Old Bridge, Warrandyte'. The old bridge was but a short distance from his close friend, fellow artist, and one time pupil, Clara Southern.
In 1907 and 1908, Withers' produced a number of works of the lower Yarra River, in the vicinity of the docks, and in his later years produced numerous watercolours of scenes close to his home.
Withers was a highly respected artist, well liked by his students and colleagues. In 1904-05, he was elected President of the Victorian Artists' Society, however, he became dissatisfied with this Society, and in 1912 joined a group of fellow professional artists who formed the Australian Art Association. He was chosen as one of the judges of the work of the National Gallery students for fourteen years, and in 1912-14 was a trustee of the Public Library, Museums and National Gallery of Victoria.
Withers' daughter, Nan recalled that her father stood six feet (182.9 cm) tall, was of a solid build, with brown hair slightly curling at the sides and with big soft hazel eyes and a large bushy moustache. Plagued by rheumatism and in later life by heart and lung disease, he died of cerebral thrombosis on 13 October 1914 at his home in Eltham. He was buried nearby in the Anglican churchyard at St.Helena. His wife, four daughters and a son survived him.
His work has been described as poetic, capturing nature in all her moods. It reflects his early interest in the works of the English watercolourists, Peter De Wint and David Cox, and shows the influence of John Constable and the French Impressionists. A retrospective of Withers' works was held in 1975 at the Geelong Art Gallery.
Left: Arthur Streeton - Above Us The Great Grave Sky, 1890
Collection: National Gallery of Australia, Canberra.