The Artists
Walter Withers
WALTER WITHERS
CHARTERISVILLE, NEAR EAGLEMONT, VICTORIA, c. 1890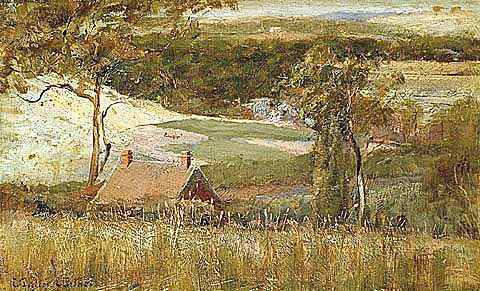 WALTER WITHERS
Born England 1854, Arrived Australia 1883, Died 1914
CHARTERISVILLE, NEAR EAGLEMONT, VICTORIA, c. 1890
oil on wood panel 20.3 x 33.0 cm
Collection: The Holmes à Court Collection, Heytesbury
The Charterisville Estate comprised 168 acres, and extended from the Eaglemont hillside to the Yarra River flats. Painted from the 10 acre garden at Charterisville, Withers has depicted in the foreground of this work one of the small brick cottages on the Estate.
Withers has provided us with a glimpse of the Yarra River, and across the river in the distance is the mansion Clarendon Eyre, originally called Springbank, built in Bulleen in 1865.
Further information:
Walter Withers at Charterisville, c.1890
Photograph of one of the brick cottages in the garden at Charterisville, c. 1890
Photograph of ornamental pond in Charterisville garden, c. 1920
Copyright Notice
No works can be copied from this site. Permission to publish or reproduce can be sought from The Holmes à Court Collection, Heytesbury. All Rights Reserved medialaunch Pty. Ltd.
Left: Arthur Streeton - Above Us The Great Grave Sky, 1890
Collection: National Gallery of Australia, Canberra.