The Artists
Walter Withers
WALTER WITHERS
THE LAST OF SUMMER, 1898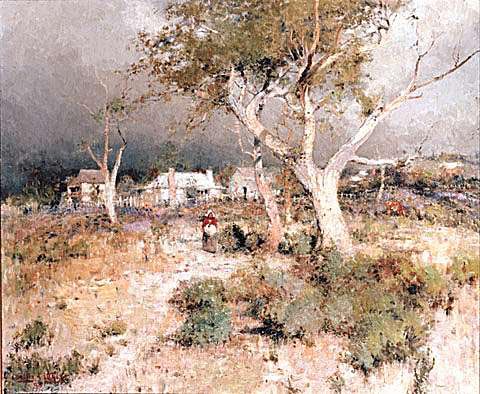 WALTER WITHERS
Born England 1854, Arrived Australia 1883, Died 1914
THE LAST OF SUMMER, 1898
oil on canvas 77.0 x 92.0 cm
Gift of Mrs. I. Main-Rippin, 1932
Collection: Ballarat Fine Art Gallery
Walter Withers captures in this work an approaching storm, its dark clouds heralding an end to Summer and relief for the parched landscape. Withers depicts a number of the old cottages of Heidelberg and to the far right an imposing building with large red chimneys. Many consider that this building is the Old England Hotel that was built in 1848. Withers and his artist colleagues often visited the Old England, and for Withers the hotel was only a short walking-distance from where he lived in Darebin Street, Heidelberg.
Further information:
Old England Hotel, Heidelberg
Copyright Notice
No works can be copied from this site. Permission to publish or reproduce can be sought from the Ballarat Fine Art Gallery. All Rights Reserved medialaunch Pty. Ltd.
Left: Arthur Streeton - Above Us The Great Grave Sky, 1890
Collection: National Gallery of Australia, Canberra.