The Artists
The Old England Hotel, Heidelberg
History of The Old England Hotel
Established in 1848, The Old England Hotel is an important part of Melbourne's history.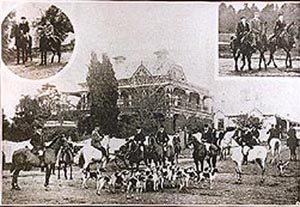 Old England Hotel
Heidelberg
During the last century the Hotel was very much in vogue as it attracted the fashionable set of the day and became a popular honeymoon resort for newlyweds. In fact, a Sunday afternoon ride to the Old England was very much the "in thing" to do.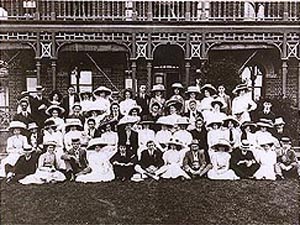 Myer Staff Picnic
Old England Hotel, Heidelberg

Approximately 1916 The Hotel also attracted another group, whose importance and fame could not have been known at the time. Arthur Streeton, Walter Withers, Tom Roberts & Charles Conder as young struggling artists, frequented the Hotel during the years they were busily painting in the Heidelberg area, around 1888.

These were the years when they established the now world famous Heidelberg School. It is at the Old England they regularly gathered to share their dreams, stories, struggles and achievements. There are many anecdotes surrounding their visits to the Hotel, which contribute to the hotel's rich history and character.

As a tribute to these artists lives and work, fine reproductions of their paintings grace the wall of the Bistro. Visitors to the Hotel are encouraged to take a stroll around the Bistro and view these works.

The ambiance and elegance of those by-gone years are still evident at the Old England today. The hotel has been faithfully restored and features original 1848 bluestone pitches, handmade local brick walls, and leadlighting.

The Heidelberg School Artists Trail has recently been established in recognition of the sites often visited by the artists around the area. The trail begins around the corner from the Old England Hotel and identifies significant heritage sites where major art works were painted from the 1880's to the early 1900's.

Visitors can take a stroll along the meandering Yarra River and experience how the artists of that era interpreted the landscape.

The Old England Hotel
459 Lower Heidelberg Road
Heidelberg, Vic 3084
Telephone: +61 3 9459 1166
Facsimile: +61 3 9457 5902
Email: info@oldenglandhotel.com.au

Left: Arthur Streeton - Above Us The Great Grave Sky, 1890
Collection: National Gallery of Australia, Canberra.