The Artists
Walter Withers
WALTER WITHERS
THE FARM, 1890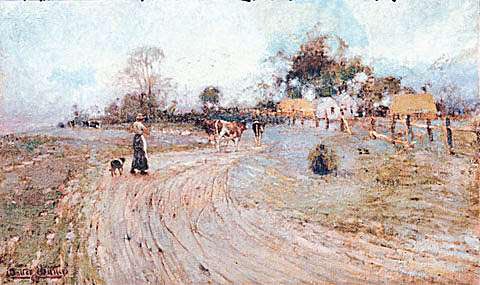 WALTER WITHERS
Born England 1854, Arrived Australia 1883, Died 1914

THE FARM, 1890
oil on canvas 85.0 x 134.5 cm
Gift of Miss Gladys Bell, 1945
Collection: Geelong Art Gallery

ĎThe Farmí is a typical road scene by Walter Withers which captures the peaceful mood of early Heidelberg. Here is rural Heidelberg, with a farmerís wife slowly walking her dairy cattle along a gently winding road, with her dog at her feet, awaiting her command. The cattle seem in no hurry and there are ducks or geese on the road ahead. In the 1890ís, there were a number of dairy farms in Heidelberg, along the nearby rich Yarra River flats, and even today remains of dairy farms can be seen in the paddocks adjacent to The Boulevard.

Copyright Notice
No works can be copied from this site. Permission to publish or reproduce can be sought from the Geelong Art Gallery. All Rights Reserved medialaunch Pty. Ltd.

Left: Arthur Streeton - Above Us The Great Grave Sky, 1890
Collection: National Gallery of Australia, Canberra.