The Artists

Walter Withers
WALTER WITHERS
COUNTRY ROAD, c. 1898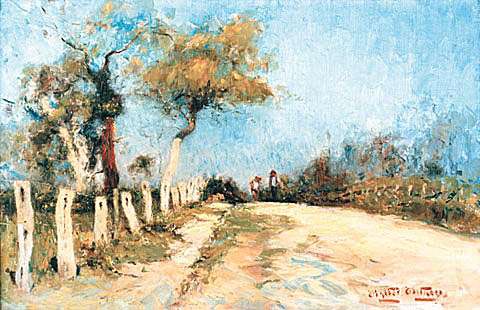 WALTER WITHERS
Born England 1854, Arrived Australia 1883, Died 1914

COUNTRY ROAD, c. 1898
oil on canvas 32.0 x 49.6 cm
Purchased with the assistance of a special grant
from the Government of Victoria, 1979
Collection: National Gallery of Victoria, Melbourne


Walter Withers has captured in this work a scene of everyday life in early Eltham. Very typical of Withersí road subjects and showing the influence of his studies of the works of David Cox, this work depicts two swaggies, their blueys slung over their shoulders, carrying their billies, trudging down an old country road. Here in this Eltham landscape, in the height of Summer, no shade is offered to the swaggies as they make their way down the well-worn track, where even the post and rail fenceline is showing its age.

Copyright Notice
No works can be copied from this site. Permission to publish or reproduce can be sought from the National Gallery of Victoria, Melbourne. All Rights Reserved medialaunch Pty. Ltd.

Left: Arthur Streeton - Above Us The Great Grave Sky, 1890
Collection: National Gallery of Australia, Canberra.