The Artists
Walter Withers
WALTER WITHERS
ON THE ELTHAM ROAD, 1906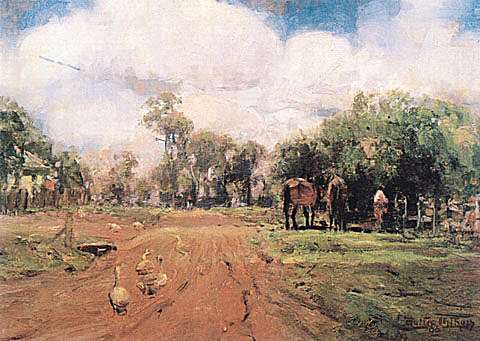 WALTER WITHERS
Born England 1854, Arrived Australia 1883, Died 1914

ON THE ELTHAM ROAD, 1906
oil on canvas 34.0 x 49.6 cm
Private Collection

In this cheerful rural landscape, Walter Withers has captured the spirit of early Eltham. Eltham was a quiet, sleepy village, where geese wandered up the main road and the locals either walked or rode their horses or bicycles around the township. Walter Withers was known to load up his bicycle with his collapsible easel, folding stool, paint box, water bottle and canvases, and would head off for a day's painting. He was also known for his walking, as was his family, and they became known locally as the 'Walking Withers'.

Further information:
Photograph - Nearing Eltham Station - early 1900s
Photograph of Southernwood - the Withers' Eltham home c. 1910

Left: Arthur Streeton - Above Us The Great Grave Sky, 1890
Collection: National Gallery of Australia, Canberra.