The Artists
Walter Withers
WALTER WITHERS
LANDSCAPE WITH SHEEP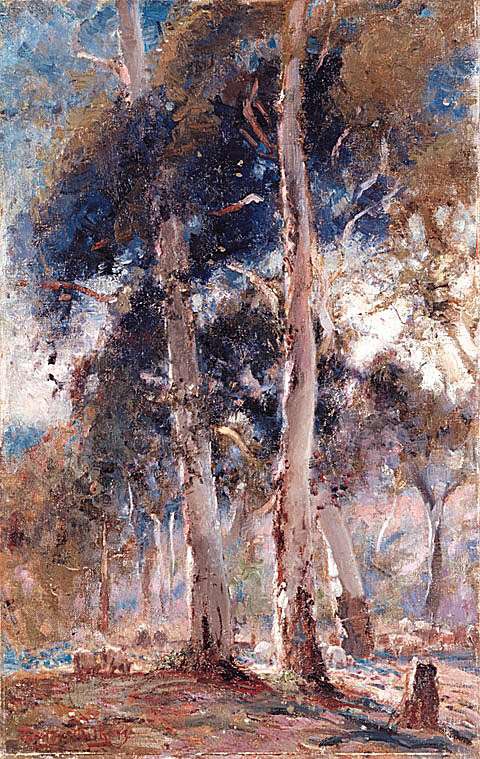 WALTER WITHERS
Born England 1854, Arrived Australia 1883, Died 1914
LANDSCAPE WITH SHEEP
oil on canvas 54.8 x 34.4 cm
Purchased with the assistance of a special grant
from the Government of Victoria, 1979
Collection: National Gallery of Victoria, Melbourne
Walter Withers depicts in this work a number of sheep on Mr Tom Orr's property. Our view is from the rise above what is now Wingrove Park, from the Lower Plenty side of the nearby Diamond Creek, looking northwards towards the main Eltham township. The mood of this work is warm and vibrant, with the use of strong blues and pinks, and this stands in marked contrast to the softer, cooler greens used by Walter Withers in his work 'The Silent Gums'.
Copyright Notice
No works can be copied from this site. Permission to publish or reproduce can be sought from the National Gallery of Victoria, Melbourne. All Rights Reserved medialaunch Pty. Ltd.
Left: Arthur Streeton - Above Us The Great Grave Sky, 1890
Collection: National Gallery of Australia, Canberra.