The Artists
Tom Roberts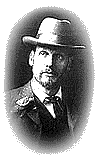 Tom Roberts
Private Collection
Tom Roberts, painter and photographer, was born on 8 March 1856 at Dorchester, Dorset, England. He arrived in Geelong on 22 June 1869, and settled in Collingwood. In his early years he was encouraged to paint plein-air by Louis Buvelot and his interest in plein-air painting was further stimulated by a study tour of Europe between 1881 and 1885. In 1889, he exhibited 62 works in the 9 x 5 Impression Exhibition. On 30 April 1896, he married 35 year old, Elizabeth (Lillie) Williamson at St. Hilary's Anglican Church, East Kew. In 1903, the couple travelled to London. They returned in 1923 and settled at 'Talisman', their small cottage on half an acre, in Kallista. Tom Roberts, who was known as 'Bulldog' to his friends, died at 'Talisman' on 14 September 1931, and his ashes are buried in the Illawarra churchyard, near Longford, Tasmania.
The following paintings by Tom Roberts can be viewed as part of this collection.
Tom Roberts - Quiet Stream, Heidelberg, c. 1885
Tom Roberts - Artists' Camp, 1886
Tom Roberts - A Summer Morning Tiff, 1886
Tom Roberts - The Sunny South, 1887
Tom Roberts - Slumbering Sea, Mentone, 1887
Tom Roberts - Across to the Dandenong Ranges, 1889
Tom Roberts - Shearing the Rams, 1890
Tom Roberts - Opening of the First Parliament, 1903
Tom Roberts - Country Road Makers, 1923
Tom Roberts - Washing Day, Kallista, c. 1923-25
Tom Roberts - Sherbrooke Forest, 1924

Tom Roberts
OPENING OF THE FIRST PARLIAMENT OF THE COMMONWEALTH OF AUSTRALIA
BY H.R.H. THE DUKE OF CORNWALL AND YORK, (LATER H.M. KING GEORGE V)
MAY 9 1901 (1903)
oil on canvas, 304.5 x 509.2 cm
Collection: On permanent loan to the Parliament of Australia from the British Royal Collection
Heidelberg School Bibliography
Tom Roberts Memorabilia
Photographs
Tom Roberts at two years of age, c. 1858
Shearing Shed at Brocklesby Station, Corowa
Tom Roberts, c.1903
Tom Roberts at Newstead, c 1893
Tom Roberts and Lillee London home, c. 1912
Tom Roberts at Wandsworth, London, c. 1915
Tom Roberts and Lillie at Talisman, c. 1925
Tom Roberts and Lillie at the studio at Talisman, c. 1925
Tom Roberts seated in the interior of Talisman, c. 1931

Tom Roberts at Kallista, late 1920s
Tom Roberts Grave Illawarra Cemetery
Tom Roberts Gravestone
Letters
Tom Roberts Letter to Lillie Williamson
Certificates
Tom Roberts Certificate of Marriage
Tom Roberts Discharge Notice
Copyright Notice:
The photographic images of the Artists and the reproduction of the Artists works are subject to Copyright. People who wish to reproduce any of these images need to contact the relevant authorities.
The information provided within this website by Andrew Mackenzie remains his Intellectual Property.
All other Rights Reserved medialaunch Pty. Ltd.
Left: Arthur Streeton - Above Us The Great Grave Sky, 1890
Collection: National Gallery of Australia, Canberra.