The Artists
Tom Roberts
TOM ROBERTS
A SUMMER MORNING TIFF, 1886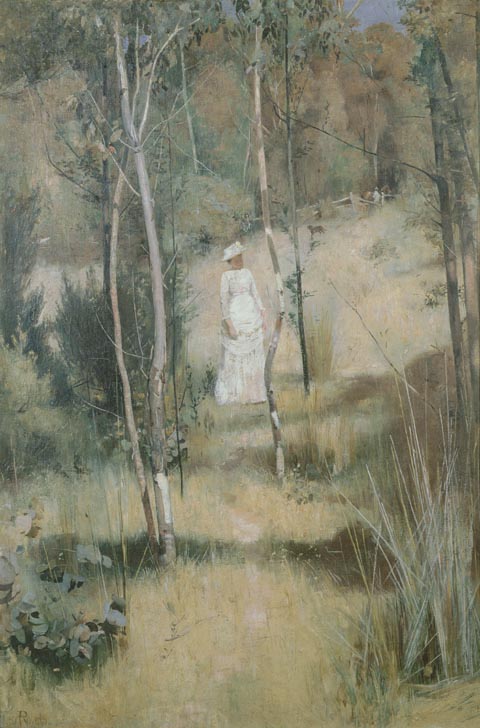 TOM ROBERTS
Born England 1856, Arrived Australia 1869, Died 1931
A SUMMER MORNING TIFF, 1886
oil on canvas 76.5 x 51.2 cm
Martha K. Pinkerton Bequest Fund, 1943
Collection: Ballarat Fine Art Gallery
A companion work to Frederick McCubbin's work, 'Gathering Mistletoe', this work was painted in the bush at Box Hill, close to the artists' camp site.
The model for this work was Harriet (Polly), one of McCubbin's four sisters. She was born on 18 August 1861 and would have been aged twenty-three when she posed for this work.
Roberts describes his work on this painting in a letter to Lillie Williamson, 15 April 1886, in which he also sketches the work.
The work was exhibited in the September 1886, Australian Artists' Association Exhibition, with the accompanying poem:
Only a word at the splitter's track
A thoughtless blunder.
She is fair and haughty and answers bade,
So they part asunder.
With a jerk he loosens the fastening rein -
And she turns her back with a fine disdain
Ah me! sigh the saplings in sad refrain
As she passes under.
Further Information:
Letter to Lillie Willamson 1886
Frederick McCubbin's work, 'Gathering Mistletoe'
Photograph of Harriet (Polly)
Copyright Notice
No works can be copied from this site. Permission to publish or reproduce can be sought from the Ballarat Fine Art Gallery. All Rights Reserved medialaunch Pty. Ltd.
Left: Arthur Streeton - Above Us The Great Grave Sky, 1890
Collection: National Gallery of Australia, Canberra.