The Artists
Frederick McCubbin
FREDERICK McCUBBIN
GATHERING MISTLETOE, 1886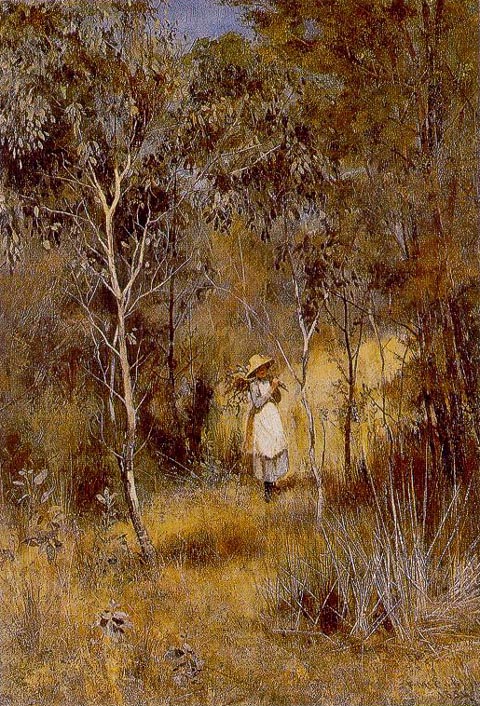 FREDERICK McCUBBIN
Australia 1855 - 1917
GATHERING MISTLETOE, 1886
oil on canvas, 54 x 39 cm
Private Collection
Painted at the Box Hill Artists' Camp in 1886, this work is a companion to 'Lost', 1886, also painted at this site. It is also a companion to 'Found', painted in 1892.
'Gathering Mistletoe' is the first in this series of narrative works, which tells the story of the young girl who goes gathering mistletoe in the bush, only to become lost, and eventually is found.
Note the immature red box eucalypts (Eucalyptus Polyanthemos) captured in this work, which become very much a motif in many of the works painted at the Box Hill Artists' Camp.
The model for the work was Mary Anne or 'Dolly', one of Frederick McCubbin's younger sisters, who was born on 6 March 1857. The painting shows the strong influence of J.B.C.Corot on McCubbin's work at this time, as well as the strong influence of the 'Naturalists'.
Further information:
Frederick McCubbin - Lost, 1886
Photograph of Mary Anne McCubbin
Left: Arthur Streeton - Above Us The Great Grave Sky, 1890
Collection: National Gallery of Australia, Canberra.