The Artists
Walter Withers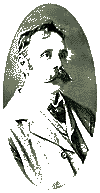 Walter Withers, c. 1906
Private Collection
Walter Withers, painter, illustrator and teacher and one of fourteen children, was born on 22 October 1854 at Aston Manor, Warwickshire, England. He arrived in Melbourne on 1 January 1883, and in May 1887 returned to England. He married Fanny Flinn on 11 October 1887, and studied in Paris, before returning to Melbourne on 11 June 1888.
In the Summer of 1889-90, he shared with Arthur Streeton the old farmhouse on the Mount Eagle estate. In 1890, he rented Charterisville, and in 1894 rented in Cape Street, Heidelberg. In 1898, he moved from Cape Street to 'Withers Court', Darebin Street, Heidelberg, and in 1903, settled at 'Southernwood', corner of Brougham and Bolton Streets, Eltham. He was known to his friends as the 'Colonel', and died in Eltham on 13 October 1914. He is buried nearby in the Anglican churchyard at St. Helena.
The following paintings by Walter Withers can be viewed as part of this collection.
Walter Withers - The Farm, 1890
Walter Withers - Charterisville near Eaglemont, Victoria, c. 1890
Walter Withers - A Bright Winter's Morning, 1894
Walter Withers - The Yarra Below Eaglemont, 1895
Walter Withers - Tranquil Winter, 1895
Walter Withers - The Storm, 1896
Walter Withers - The Last Of Summer, 1898
Walter Withers - Early Morning, Heidelberg, 1898
Walter Withers - Country Road, c. 1898
Walter Withers - Old Bridge, Warrandyte
Walter Withers - On The Eltham Road, 1906
Walter Withers - The Silent Gums, 1909
Walter Withers - Nan With Tip, 1909
Walter Withers - Spring, c. 1910
Walter Withers - The Drover, 1912
Walter Withers - Landscape With Sheep

Heidelberg School Bibliography
Walter Withers Memorabilia
Photographs
Portrait Photograph of Fanny Withers c. 1880
Walter Withers in his Kew Studio c. 1888
Photograph of one of the brick cottages in the garden at Charterisville, c. 1890
Walter Withers at Charterisville, c.1890
Walter Withers working plein air at Eaglemont, c. 1890
Walter Withers' studio at Cape Street, Heidelberg, c. 1894
Photograph - Nearing Eltham Station - early 1900s
Photograph - Walter Withers Art Master at P.L.C.
Photograph - 'Southernwood' Walter Withers Home
Photograph of Withers' daughter Nan c. 1905
Walter Withers' daughter Gladys
Photograph of Southernwood - the Withers' Eltham home c. 1910
Photograph of Orr's Park, Eltham c. 1915

Letters
Walter Withers Letter Monday 16th March 1908

Walter Withers Sketch Book
Walter Withers - Twelve Pencil Sketches of Early Eltham
Walter Withers - The Historic Manifold Estate Panels c. 1902

Illustrations from The Chronicles of Early Melbourne 1835-1852
Collins Street 1839
Princes Bridge 1888
Fanny Withers
Fanny Withers' Book 'Boarded Out' c. 1907
Fanny Withers' Book 'The Life and Art of Walter Withers' c. 1920
Copyright Notice:
The photographic images of the Artists and the reproduction of the Artists works are subject to Copyright. People who wish to reproduce any of these images need to contact the relevant authorities.
The information provided within this website by Andrew Mackenzie remains his Intellectual Property.
All other Rights Reserved medialaunch Pty. Ltd.
Left: Arthur Streeton - Above Us The Great Grave Sky, 1890
Collection: National Gallery of Australia, Canberra.