The Artists
Eugene von Guerard
EUGENE von GUERARD
MILFORD SOUND WITH PEMBROKE PEAK
AND BOWER FALLS ON THE WEST COAST
OF MIDDLE ISLAND, NEW ZEALAND, 1877-79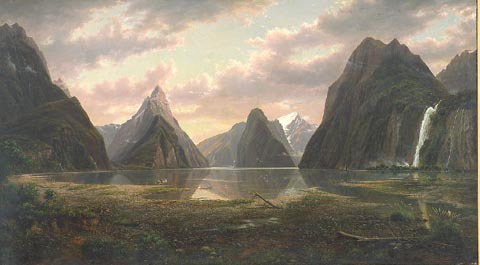 EUGENE von GUERARD
Born Vienna 1811, Died London 1901
MILFORD SOUND WITH PEMBROKE PEAK
AND BOWER FALLS ON THE WEST COAST
OF MIDDLE ISLAND, NEW ZEALAND, 1877-79
oil on canvas, 99.2 x 176 cm
Collection: Art Gallery of New South Wales

Eugene von Guerard produced this landscape from sketches made during his journey to New Zealand in January 1876. It is recorded that he spent one and a half days at Milford Sound in late January 1876.
The work was shown in the Victorian Academy of Arts Exhibition of 1877, the Exposition Universelle de Paris, 1878, the Sydney International Exhibition, where it was awarded a 'First Degree of Merit Special for Landscape Painting', and in the International Exhibition held in Melbourne in 1880.
It was exhibited, along with what has been considered its pair 'Lake Wakatipu with Mount Earnslow, Middle Island, New Zealand', 1877-79. Both of these works were purchased for 300 guineas each, by F.G. Dalgety, founder of Dalgety & Co.
Copyright Notice
No works can be copied from this site. Permission to publish or reproduce can be sought from the Art Gallery of New South Wales. All Rights Reserved medialaunch Pty. Ltd.

Left: Arthur Streeton - Above Us The Great Grave Sky, 1890
Collection: National Gallery of Australia, Canberra.