The Artists
Arthur Streeton
ARTHUR STREETON
SPRING, 1890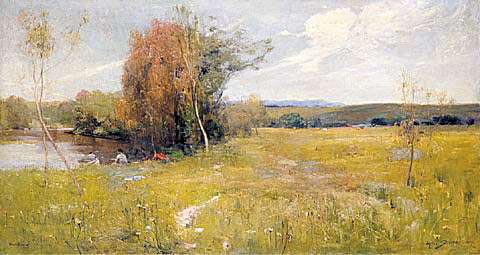 ARTHUR STREETON
Australia 1867-1943
SPRING, 1890
oil on canvas on plywood 81.4 x 152.6 cm
Gift of Mrs Margery Pierce, 1978
Collection: National Gallery of Victoria, Melbourne
Streeton, or 'Smike' as he was known, depicts in this work bathers on a corner of Sill's Bend on the Yarra River, located in what is now known as Banksia Park.
The Yarra River is swollen with heavy Spring rains, and in the distance are cattle grazing on the rich river flats. Streeton was called 'Smike' by his friends after a character in the novel 'Nicholas Nickleby' by Charles Dickens.
Copyright Notice
No works can be copied from this site. Permission to publish or reproduce can be sought from the National Gallery of Victoria, Melbourne. All Rights Reserved medialaunch Pty. Ltd.
Left: Arthur Streeton - Above Us The Great Grave Sky, 1890
Collection: National Gallery of Australia, Canberra.