The Artists
Tom Roberts
TOM ROBERTS
SIR HENRY PARKES 1892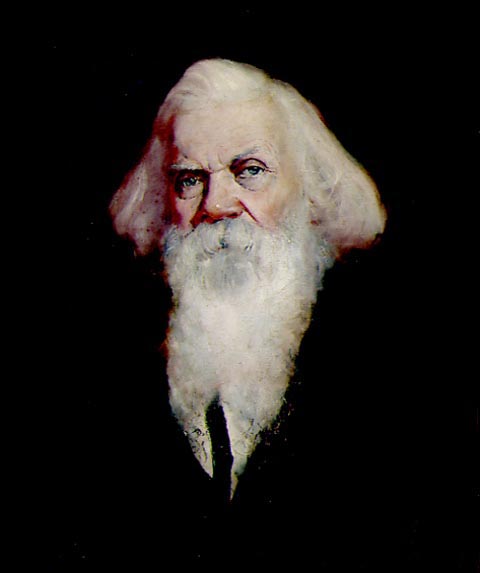 TOM ROBERTS
Born England 1856, Arrived Australia 1869, Died 1931

SIR HENRY PARKES, 1892
oil on canvas, 66.0 x 56.0 cm
Collection: Art Gallery of South Australia
Elder Bequest Fund 1901

In September 1892, Tom Roberts exhibited three portrait works as a triptych at the Art Society of New South Wales. These represented 'Church, State and the Law', and were the portraits of, in order, Cardinal Moran, Sir Henry Parkes, and Sir William Windeyer, Judge of the Supreme Court of New South Wales.

In his portrait of Sir Henry Parkes, Roberts has captured the strength of personality possessed by Parkes, with his piercing gaze, and white hair and beard which reflects his age and wisdom, and conveys that feeling that here is a patriarch. This was very much befitting his recognized station as the 'Father of Federation'. It is known from their letters that Tom Roberts and Sir Henry Parkes were friends, and corresponded with each other over many years.

Tom Roberts portrait, conveys his knowledge of Parkes, who was described by Alfred Deakin, as 'though not rich or versatile, his personality was massive, durable and imposing, resting upon elementary qualities of human nature elevated by a strong mind.'

The portrait was exhibited in the Victorian Gold Jubilee Exhibition, held in Bendigo in 1901, and was purchased from this exhibition through the Elder Bequest Fund by the Art Gallery of South Australia. A second portrait of Sir Henry Parkes, painted by Tom Roberts, is in the collection of the Art Gallery of New South Wales.

Copyright Notice
No works can be copied from this site. Permission to publish or reproduce can be sought from the

Art Gallery of South Australia, Adelaide.

All Rights Reserved medialaunch Pty. Ltd.

Left: Arthur Streeton - Above Us The Great Grave Sky, 1890
Collection: National Gallery of Australia, Canberra.