The Artists
Frederick McCubbin
FREDERICK McCUBBIN
MOYES BAY, BEAUMARIS, 1887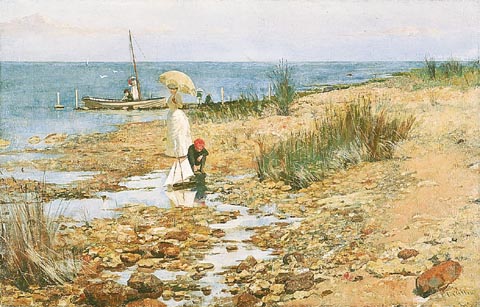 FREDERICK McCUBBIN
Australia 1855 -1917
MOYES BAY, BEAUMARIS, 1887
oil on canvas 58.6 x 91.6 cm
Collection: Art Gallery of Western Australia
Acquired through the Great Australian Paintings Appeal
with Funds presented by the Swan Brewery Co Ltd, 1978
Also known as 'The Shore', this work was painted in the summer of 1886/1887, at which time Frederick McCubbin rented a small cottage with Tom Roberts and Louis Abrahams at Mentone.
The work was reviewed in The Argus, 7 October 1887, and the review read
'There is a breezy out-of-door feeling about Mr McCubbin's 'The Shore', the tone of the picture strikes us as not warm enough for the season indicated by the attire of the figures. Although the work is impressionist in its general character, the execution of the broken rock, shingle, herbage, and pools of water in the foreground betokens attention to detail'.
The work was painted on the beach, close to where Tom Roberts painted his work 'Slumbering sea, Mentone', 1887.

This is close to the site of what is now the Beaumaris Motor Yacht Squadron (opposite the Cromer Road-Beach Road intersection). The bay depicted by McCubbin, is now known as Beaumaris Bay, and was named after a bay, situated in Anglesey, Wales near Bangor. When McCubbin was painting in this vicinity, the bay was known to locals as Moysey's Bay, which was so named after James Bickford Moysey, and his wife, Susannah Brown Moysey, who held the first official leasehold to land in this area of Beaumaris, between 1845 and 1851.
Further Information:
Tom Roberts 'Slumbering sea, Mentone', 1887
View of Beaumaris Bay (Moysey's Bay) c. 1910

Copyright Notice
No works can be copied from this site. Permission to publish or reproduce can be sought from the Art Gallery of Western Australia. All Rights Reserved medialaunch Pty. Ltd.
Left: Arthur Streeton - Above Us The Great Grave Sky, 1890
Collection: National Gallery of Australia, Canberra.