The Artists
Tom Roberts
TOM ROBERTS
SHERBROOKE FOREST, 1924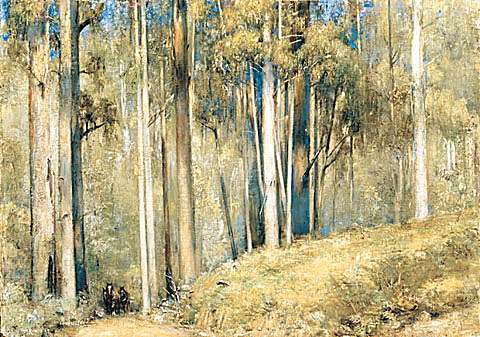 TOM ROBERTS
Born England 1856, Arrived Australia 1869, Died 1931

SHERBROOKE FOREST, 1924
oil on canvas on hardboard 48.0 x 68.4 cm
Purchased, 1946
Collection: The Art Gallery of New South Wales
This work captures the majestic beauty of Sherbrooke Forest, with the towering straight trunks of the eucalypts rising from the rich fertile soil, and dwarfing the team of horses, slowly making its way up the steep incline. At the time this work was painted, teams of horses and bullocks were often seen in Kallista, carting timber and deilvering building materials needed for housing.
Tom Roberts painted this work close to his home, near the beginning of Royle Avenue, Kallista. His view is down what is now Tom Roberts Road, towards the Kallista township.
Copyright Notice
No works can be copied from this site. Permission to publish or reproduce can be sought from The Art Gallery of New South Wales. All Rights Reserved medialaunch Pty. Ltd.
Left: Arthur Streeton - Above Us The Great Grave Sky, 1890
Collection: National Gallery of Australia, Canberra.