The Artists
Tom Roberts
TOM ROBERTS
ACROSS TO THE DANDENONG RANGES, 1889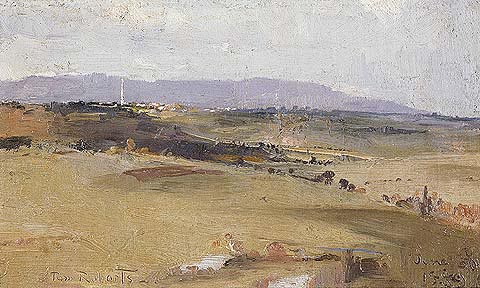 TOM ROBERTS
Born England 1856, Arrived Australia 1869, Died 1931
ACROSS TO THE DANDENONG RANGES, 1889
oil on cedar 'cigar box' lid 13.7 x 22.9 cm
Purchased 1962
Collection: National Gallery of Victoria, Melbourne
On the lower right of this work, Roberts incised the date 'June 30 1889'. The painting was very likely one of the 9 inch by 5 inch, cedar cigar-box lid works, exhibited in 'The 9 by 5 Impression Exhibition' which opened in Buxton's Gallery, Swanston Street, Melbourne on 17 August 1889.
Roberts exhibited 62 works in this exhibition, with this work depicting a view from the southern end of the Eaglemont hillside, across the valley of the Yarra River and beyond to the Dandenong Ranges.
Note the white vertical on the hillside to the left centre of this painting. This was the Beaconsfield Tower on Doncaster Hill, which Streeton also depicted in his work 'Still Glides the Stream and Shall Forever Glide', 1890.
Further Information:
Arthur Streeton 'Still Glides the Stream and Shall Forever Glide', 1890
The '9 X 5 Impression Exhibition' at Buxton's Gallery
Copyright Notice
No works can be copied from this site. Permission to publish or reproduce can be sought from the National Gallery of Victoria, Melbourne. All Rights Reserved medialaunch Pty. Ltd.
Left: Arthur Streeton - Above Us The Great Grave Sky, 1890
Collection: National Gallery of Australia, Canberra.