The Artists
Tom Roberts
TOM ROBERTS
THE ARTISTS' CAMP, c. 1886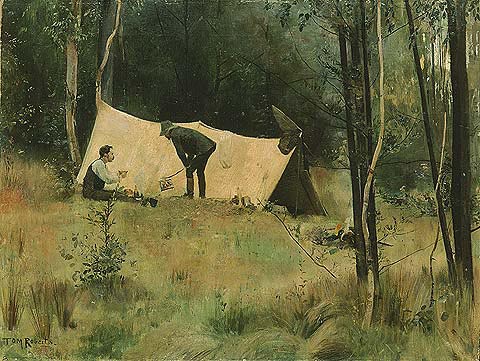 TOM ROBERTS
Born England 1856, Arrived Australia 1869, Died 1931
THE ARTISTS' CAMP, 1886
oil on canvas 45.7 x 60.8 cm
Felton Bequest 1943
Collection: National Gallery of Victoria, Melbourne
This work commemorates the site of David Houston's paddock at Box Hill where Tom Roberts, Frederick McCubbin and Louis Abrahams pitched camp late in 1885 to paint in plein air. The selected location was approximately one kilometre from the Box Hill railway station and provided an area of natural bush to paint. The artists were known to have pitched their tent on the crest of the rise above Houston's bark hut, close to Damper Creek, now known as Gardiner's Creek.
In this work, Frederick McCubbin is seated by the tent, while Louis Abrahams is bending over showing McCubbin the chops he has just grilled over the fire.
Further Information:
Frederick McCubbin
Copyright Notice
No works can be copied from this site. Permission to publish or reproduce can be sought from the National Gallery of Victoria, Melbourne. All Rights Reserved medialaunch Pty. Ltd.
Left: Arthur Streeton - Above Us The Great Grave Sky, 1890
Collection: National Gallery of Australia, Canberra.