The Artists
Tom Roberts
TOM ROBERTS
QUIET STREAM, HEIDELBERG, c. 1885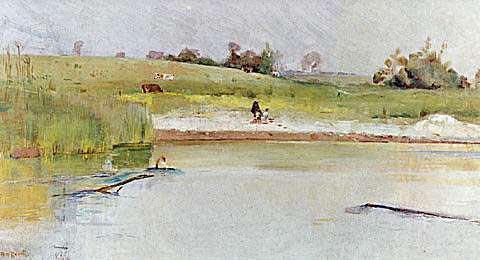 TOM ROBERTS
Born England 1856, Arrived Australia 1869, Died 1931

QUIET STREAM, HEIDELBERG, c. 1885
oil on canvas 24.5 x 45.2 cm
Private Collection

Tom Roberts, or 'Bulldog' as he was known to his friends, returned to Australia after a four year study tour of Europe between 1881 and 1885. On his return he was eager to join his colleagues on their plein-air painting trips to Alphington, Box Hill and Heidelberg. Works he produced at this time include 'A quiet day on Darebin Creek', 1885; 'Winter morning after rain, Gardiner's Creek', 1885; and this work 'Quiet Stream, Heidelberg', c. 1885.

In each of these works, Roberts captured a quiet rural scene while also conveying the peace and tranquility associated with a small country stream. It is probable that 'Quiet Stream, Heidelberg' was painted in the vicinity of what is now known as Banksia Park, on the Yarra River flats below Heide, with Roberts depicting the old billabong watercourse of the Yarra River and a view towards Bulleen.

Left: Arthur Streeton - Above Us The Great Grave Sky, 1890
Collection: National Gallery of Australia, Canberra.