The Artists
Albert Namatjira
ALBERT NAMATJIRA
BOOMERANG 1936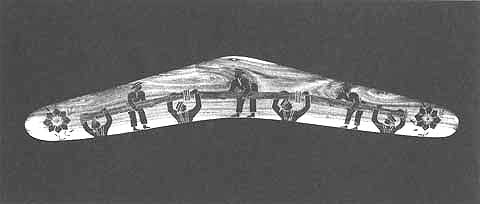 ALBERT NAMATJIRA
Australia 1902 - 1959
BOOMERANG, 1936
incised and burnished mulga wood
point to point 60 x h: 8.7 cm (irreg)
Collection: Battarbee Collection & Gayle Quarmby (daughter of Rex Battarbee)
Cat. 50 ALBERT NAMATJIRA, POKERWORK BOOMERANG
Reproduction from Megaw, M. Ruth (catalogue editor) The Heritage of Namatjira
Australian Exhibitions Touring Agency, 1991.
In June 1932, Miss Una Teague and a party of Victorians visited the Hermannsburg Lutheran Mission.
In 1933 Una Teague returned to the Mission with her well-known artist sister, Violet Teague. Concerned about the plight of the Hermannsburg Aborigines, on their return to Melbourne they organized a charity art exhibition and The Argus opened a subscription fund. Over two thousand pounds was raised for a water scheme for Hermannsburg and a pipeline was laid from Kaporilja Springs to the Mission, a distance of some seven kilometres.
Albert captured this occasion by decorating a mulga wood boomerang with pokerwork, depicting a group of seven of the workmen laying the water pipes in the trench.

Andrew Mackenzie - Albert Namatjira Biography
Copyright Notice
No works can be copied from this site. Permission to publish or reproduce can be sought from the relevant authorities. All Rights Reserved medialaunch Pty. Ltd.
© Albert Namatjira, 1936
Licensed by VISCOPY, Sydney 2001.

Left: Arthur Streeton - Above Us The Great Grave Sky, 1890
Collection: National Gallery of Australia, Canberra.