The Artists
Frederick McCubbin
FREDERICK McCUBBIN
ON THE WALLABY TRACK, 1896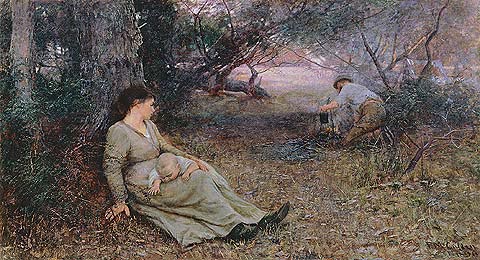 FREDERICK McCUBBIN
Australia 1855 - 1917

ON THE WALLABY TRACK, 1896
oil on canvas, 122 x 223.5 cm
Collection: Art Gallery of New South Wales
The 1890's, was a time of considerable economic unrest throughout Australia, and it was a fairly common sight to see swagmen looking for work, who were said to be 'on the wallaby'. The theme of those 'on the wallaby' found expression in Australian art, literature and music, and in this narrative work by McCubbin the swagman is given the extra burden of having to provide for a wife as well as a young baby.
The work was painted close to McCubbin's Brighton residence, and the models in this work are Frederick McCubbin's, thirty-one year old wife, Annie, with her young son, John 'Sydney', lying across her lap. John, or 'Sydney' as he was known, was born on 13 June 1896. The model for the swagman, is Annie's younger brother, Michael Moriarty, a gardener, born 21 October 1873, who would have been around twenty-three when he modelled for this work. The work is another example where McCubbin shows that he was deeply influenced by the works of J.B.C.Corot.
Further information:
Reprinted from Henry Lawson Poems by John Ferguson
Copyright Notice
No works can be copied from this site. Permission to publish or reproduce can be sought from the Art Gallery of New South Wales. All Rights Reserved medialaunch Pty. Ltd.
Left: Arthur Streeton - Above Us The Great Grave Sky, 1890
Collection: National Gallery of Australia, Canberra.