The Artists
Frederick McCubbin
FREDERICK McCUBBIN
THE LETTER, c. 1884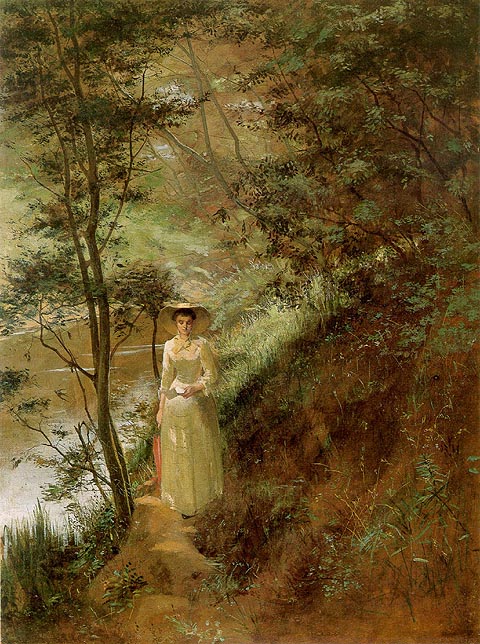 FREDERICK McCUBBIN
Australia 1855 - 1917
THE LETTER, c. 1884
oil on canvas, 69.1 x 51.0 cm
Purchased 1946
Collection: Ballarat Fine Art Gallery
In the 'Golden Summers: Heidelberg and Beyond' Catalogue, it is noted in the entry for this work, that 'The somewhat stage-like setting (for this painting) was probably worked up from plein-air landscape sketches along the Yarra at Darebin. John Longstaff produced a very similar painting 'Gathering Wildflowers' (Bendigo Art Gallery School) in the same year.'
The model for this work was Harriet, or 'Polly' as she was nicknamed, one of Frederick McCubbin's four sisters. She was an art student, who modelled for her brother, as well as for Tom Roberts at the Box Hill Artists' Camp. She appears in Tom Roberts work 'A Summer Morning Tiff', painted at the Camp in 1886.
Harriet was born on 18 August 1861 at her parent's bakery address, 165 King Street, Melbourne. She would have been aged 23 when she posed for this work. Two years later, on 3 March 1886, she married George John Gibson, a ship's provedore. They had one child, a son, Daniel Ewen. Harriet died at the age of seventy-six on 3 September 1937.
Further information:
Tom Roberts 'A Summer Morning Tiff'
Photograph of Harriet McCubbin c. 1930

Copyright Notice
No works can be copied from this site. Permission to publish or reproduce can be sought from the Ballarat Fine Art Gallery. All Rights Reserved medialaunch Pty. Ltd.
Left: Arthur Streeton - Above Us The Great Grave Sky, 1890
Collection: National Gallery of Australia, Canberra.