The Artists
Frederick McCubbin
FREDERICK McCUBBIN
RAIN AND SUNSHINE, 1910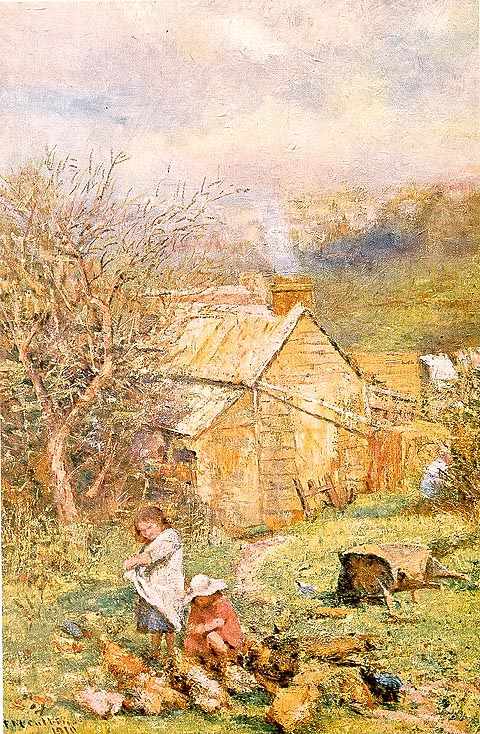 FREDERICK McCUBBIN
Australia 1855 - 1917
RAIN AND SUNSHINE, 1910
oil on canvas, 77 x 51 cm
Private Collection

Late in 1907, Frederick McCubbin and his family rented 'Carlesberg', 42 Kensington Road, South Yarra, and this became McCubbin's city residence for the rest of his life. The three acre property, "Carlesberg', overlooked much of the neighboring 'Como' estate, including this, the gardener's cottage, which was situated at the end of the 'Como' estate almond grove.
Mr Thomas, the gardener for 'Como' and his family lived in the cottage, which became the subject for many of Frederick McCubbin's later paintings. Frederick McCubbin depicts three young girls in this work, which was painted in 1910. In the foreground, in the red dress, is his daughter, Kathleen, at approximately four years of age. Beside Kathleen, is Myrtle Thomas, daughter of Mr Thomas, the gardener, while another of his daughters, Vera, is half hidden by the bushes to the right of the cottage.
Further information:
Frederick McCubbin - The Macedon Years
Photograph of Kathleen McCubbin
Left: Arthur Streeton - Above Us The Great Grave Sky, 1890
Collection: National Gallery of Australia, Canberra.