The Artists
Frederick McCubbin
FREDERICK McCUBBIN
AN OLD POLITICIAN, 1879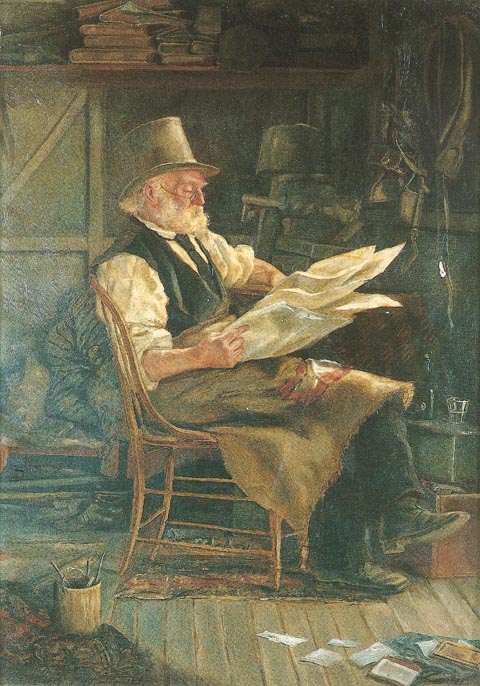 FREDERICK McCUBBIN
Australia 1855 - 1917
AN OLD POLITICIAN, 1879
Oil on canvas, 53.5 x 37 cm
Private Collection

McCubbin was around twenty-four years of age when he painted this work, and at the time was enrolled as a student in the National Gallery of Victoria School of Painting, under Eugene von Guerard. The teachings of von Guerard had a strong influence on the young and impressionable McCubbin and this is evident in these early student works.
After the death of his father on 2 May 1877, McCubbin helped his mother in the everyday business of running their bakery, as well as doing piece-work as a painter for the 'Carriage, Coach and Wagon Builders and Dealers', Stevenson and Elliott, who were situated at 181 King Street, Melbourne. This was only a short distance from the McCubbin's bakery, which was situated at 165 King Street, Melbourne.
'An Old Politician' was one of his earliest narrative works and depicts George Elliott, the Coach Builder, for whom McCubbin worked. George Elliott was considered a worldly-wise, educated man, who used to like to philosophize. McCubbin's title for this work was therefore more befitting the character of the man, rather than his station.
Further information:
Eugene von Guerard
Left: Arthur Streeton - Above Us The Great Grave Sky, 1890
Collection: National Gallery of Australia, Canberra.