The Artists
Frederick McCubbin
FREDERICK McCUBBIN
FALLS BRIDGE, MELBOURNE, 1882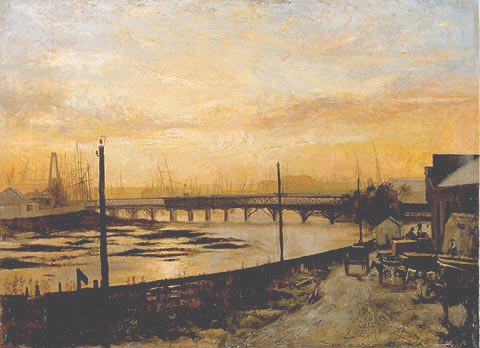 FREDERICK McCUBBIN
Australia 1855 - 1917
FALLS BRIDGE, MELBOURNE, 1882
oil on canvas, 50.5 x 68.4 cm
Collection: National Gallery of Victoria
Gift of Mr Hugh McCubbin, 1960
McCubbin provides us in this work with a view of the Yarra River from the old Princes Bridge. The railway-bridge to Sandridge and the old Falls Bridge are depicted in the middle distance, and the shipping of the port is in the background. In 1890, the name Falls Bridge was changed to Queens Bridge.
On the right, McCubbin has captured the old Fish Market, situated on the corner of Swanston Street and the old Princes Bridge, with a number of horses and carts lined up outside. The dark shadows in the river in the centre of the work, represent the remains of 'The Falls', a reef of rock, which when the Yarra River was first navigated by white settlers, stretched across the river and made progress upstream beyond this point impossible for larger vessels. The remains of 'The Falls' were removed several years later, when the new Princes Bridge was erected. This new bridge, was the third on this site, and was at a higher elevation than the previous two.
The official opening of the new seven span Princes Bridge was on 4 October 1888. Soon after Arthur Streeton painted a view of the new bridge in his work 'Between the Lights - Princes Bridge', 1888, and McCubbin painted the new bridge in his work 'Princes Bridge', [1908].
Further information:
Frederick McCubbin - Princes Bridge, 1908
Copyright Notice
No works can be copied from this site. Permission to publish or reproduce can be sought from the National Gallery of Victoria, Melbourne. All Rights Reserved medialaunch Pty. Ltd.
Left: Arthur Streeton - Above Us The Great Grave Sky, 1890
Collection: National Gallery of Australia, Canberra.