The Artists
Frederick McCubbin
FREDERICK McCUBBIN
DOWN ON HIS LUCK, 1889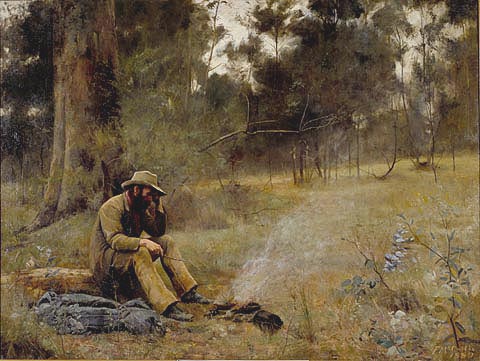 FREDERICK McCUBBIN
Australia 1855 - 1917
DOWN ON HIS LUCK, 1889
oil on canvas, 114.5 x 152.8 cm
Collection: The Art Gallery of Western Australia
This work was painted in the bush in the vicinity of the Box Hill Artists' Camp on David Houston's property.
The model for the unsuccessful gold digger was 37 year old, Louis Abrahams, who appears in the landscape in a harsher light, and was possibly added later in McCubbin's studio. Louis Abrahams, nicknamed 'The Don', was born in 1852. It was through his family, who were merchants in the cigar industry, that a supply of 9 by 5 inch cigar box lids were made available for his artist colleagues to paint on, for their 9 by 5 Impression Exhibition, held at Buxton's Gallery on 17 August 1889.
Further information:
9 x 5 Impression Exhibition at Buxton's Gallery on 17 August 1889
Copyright Notice
No works can be copied from this site. Permission to publish or reproduce can be sought from The Art Gallery of Western Australia. All Rights Reserved medialaunch Pty. Ltd.
Left: Arthur Streeton - Above Us The Great Grave Sky, 1890
Collection: National Gallery of Australia, Canberra.