The Artists
Frederick McCubbin
FREDERICK McCUBBIN
INTERIOR, c. 1911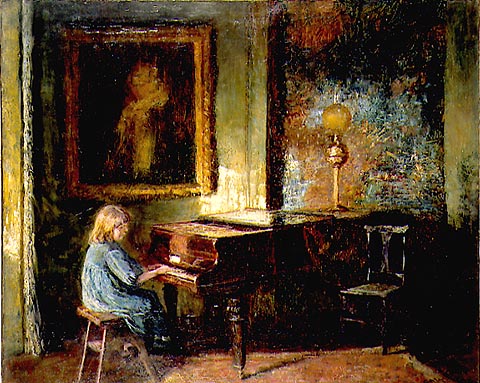 FREDERICK McCUBBIN
Australia 1855 - 1917
INTERIOR, c. 1911
oil on canvas, 76.6 x 91.8 cm
Collection: Ballarat Fine Art Gallery
William Davies Bequest Fund, 1945
This is an intimate painting by Frederick McCubbin of his youngest child, Kathleen, at around four years of age, seated at the family piano in the music room of their home at 42 Kensington Road, South Yarra.
Kathleen spoke to me about the painting, and her reflections were as such:
'This is the music room in our house in Kensington Road, South Yarra and I posed for the model of the little girl seated at the piano. The blue velvet dress I have on in this painting was long, right down to my feet, and it was beautiful that dress. It was made for the opening of one of my father's exhibitions that Nellie Melba opened. I can remember I had to present Nellie Melba with a bunch of red roses - I didn't do it very well, I might add, because I was a bit scared. Anyway, when Melba arrived with three young men she was so charming, as Melba could be when she was in the mood, but she was an amazing person - and I gave her the red roses and she accepted them graciously. She had received thousands of posies before but she received mine as if it was the only posy she had ever received, and she took my hand and said "Now will you take me around the exhibition and tell me all about your father's paintings" - and I walked around the exhibition with her, and I thought that was wonderful you know, walking around hand-in-hand with the great Nellie Melba.
In this work there is one of my father's paintings on the wall, the portrait of Mrs Beaufort. She had come from the American South with her parents and she could remember when her parents owned black slaves. - I can always remember that.
The chair in the painting was a chair I had for many years. It was a real Sheridan chair, which I sold. The piano was later taken to our place at Mount Macedon, but I don't know what became of it. The light in the house was from oil lamps, for that was before the house had electricity. At that stage of my life I only thumped on the piano, and I remember that after a while it made my father very nervous. I remember it was the only time I ever got a smack on the back of the hand with his paint brush - that comes into my book 'Daisy Chains' - anyway I put on such an act that he got terribly contrite as if he had done a terrible thing, so he gave me two shillings, and oh, that was wonderful'.
Further Information:
Photograph of Dame Nellie Melba c. 1921
Copyright Notice
No works can be copied from this site. Permission to publish or reproduce can be sought from Ballarat Fine Art Gallery. All Rights Reserved medialaunch Pty. Ltd.
Left: Arthur Streeton - Above Us The Great Grave Sky, 1890
Collection: National Gallery of Australia, Canberra.