The Artists
Sir William Dargie
WILLIAM DARGIE
SIR JAMES ELDER, K.B.E., 1941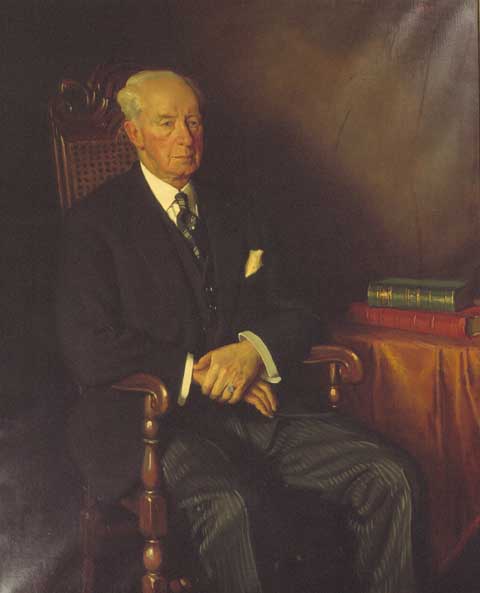 WILLIAM DARGIE
Born 1912
SIR JAMES A.M.K. ELDER, K.B.E., 1941
oil on canvas 122 x 99 cm
Collection: National Australia Bank
Cat: 281
Sir James Alexander Mackenzie Elder K.B.E.
Director 1927 - 1946 Chairman 1932 - 1943
William Dargie - Archibald Prize 1941
This work was awarded the Archibald Prize for 1941.
The work is illustrated in 'Let's Face It', by Peter Ross published in 1999, and Ross informs us that it was one of the 133 works submitted for the Archibald Prize by 83 artists. The prize money for that year was 443 pounds 13 shillings and 4 pence, and the exhibition dates were from 17 January to 18 February 1942.
Ross notes that 'William Dargie had recently been appointed an official war artist with the A.I.F. The subject of his first Archibald prize-winning portrait, Sir James Elder, was director of the National Bank of Australia'.
Ross further notes that 'Dargie won his first Archibald Prize in 1942, as a young man of twenty-nine, and at the time of the announcement he was digging a trench south of Tobruk.
'A fellow I knew gave me a telegram.
I tore it open and he asked "Good news or bad?"
I said I had won some bloody prize,
and he said "Oh", And very sensibly added, "How much?"
The win, it turned out, may have been illegal the artist revealed in an interview in 1997.
'It was my wife who got active whilst I was away - you are supposed to sign some documents, but she put it in and it won.'
Given that the artist was on war service at the time, not even the Board of Trustees was churlish enough to disqualify him because he had not signed the necessary statutory declaration himself.'
As with many of Dargie's Archibald prize-winning works, the critics were harsh in their comments, and Anna Waldmann in her Summer 1982 article on 'The Archibald Prize' in Art and Australia noted that the Daily Telegraph critic described the work as 'dreary and uninspired'.
Dargie's subject, Sir James Alexander Mackenzie Elder, was anything but that.
He was a businessman, born on 10 November 1869, at Elgin, Scotland, who migrated to Melbourne, Australia in 1891.
In his early years, Elder worked with John Cooke as a frozen meat exporter and by 1914 had become trade adviser to the Federal Government and the representative of the Associated Chambers of Commerce on the Commonwealth Board of Trade.
He became a commissioner of the British Empire Exhibition held in London in 1924 and 1925 and for a time was chairman of its Australian section.
In September 1924 he took up a two-year appointment as commissioner for Australia in the United States of America.
In January 1925, while in the United States, in recognition of his services to Australian trade, he was knighted. He also served as a member of the Royal Commission on wireless services in 1927.
A lifelong interest in Australian pastoral exports, Elder was from 1916 a director of Goldsbrough Mort & Co. Ltd. He was also a director of the Union Trustee Company of Australia until 1942, and a director, and chairman, between 1932 and 1943 of the National Bank of Australasia.
In the 'Australian Dictionary of Biography' entry for Elder, it is noted that in 1932 he was described as 'being tall and well-built, with silver-grey hair, the 'glow of health in his cheeks' and a ready smile'.
A member of the Melbourne Club, Elder was also a member of the Australian Club.
He died in hospital at East Melbourne on 30 May 1946, and is buried in Brighton Cemetery.
Further information on Sir James Alexander Mackenzie Elder, is provided in the 1944 edition of 'Who's Who in Australia'.
Left: Arthur Streeton - Above Us The Great Grave Sky, 1890
Collection: National Gallery of Australia, Canberra.