The Artists
Sir William Dargie
WILLIAM DARGIE
MR ESSINGTON LEWIS, C.H. 1952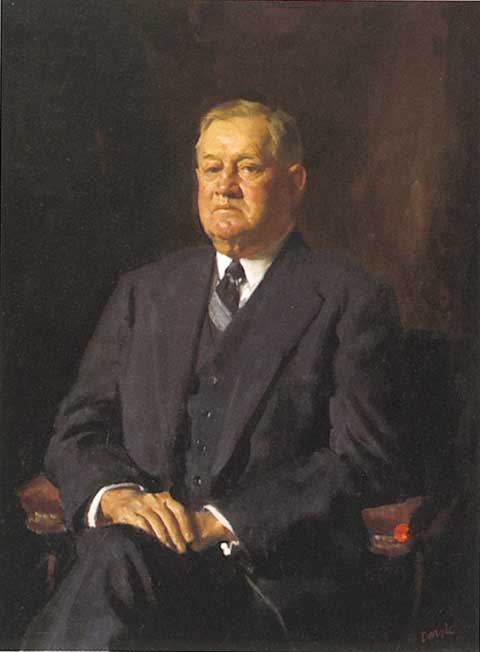 WILLIAM DARGIE
Born 1912
MR ESSINGTON LEWIS, C.H. 1952
oil on canvas 102 x 76 cm
Collection: Broken Hill Proprietary Company Limited
This work was awarded the Archibald Prize for 1952.
It is illustrated, Plate 6 in 'Dargie: 50 Years of Portraits', 1985; in "Let's Face It' by Peter Ross, 1999 and in 'The Archibald Prize' by Anna Waldmann Art and Australia Summer 1982 edition.
This work was also included in the 1992 exhibition 'Uncommon Australians: Towards an Australian Portrait Gallery.'
Dargie's portrait of Essington Lewis was one of 83 selected works from a total of 241 entries submitted for the Archibald Prize.
The prize money for that year was 539 pounds 16 shillings and 3 pence, and the exhibition dates were 24 January to 8 March 1953.
Peter Ross in 'Let's Face It' noted that 'Essington Lewis, subject of Dargie's seventh winning portrait, was chairman of Broken Hill Proprietary Company Limited, whose directors had commissioned the work.'
The day after the exhibition opened it was reported that some thirty students had protested against the judges' decision at the Gallery. According to the Sydney Morning Herald 25 January 1953,
'A number of wrestling matches took place on the porch and steps of the gallery as attendants wrenched placards away from the running students.'

From 4 to 16 February 1953, a show of rejected works, organized by the St. John Ambulance Brigade and opened by the Minister of Education, Mr Heffron, took place at the Department of Education Galleries in Bridge Street.
At the opening, artists handed out a leaflet demanding 'Gallery Reform' and a limitation of the trustees' term of office.
It was reported in the Sun and the Sydney Morning Herald of 5 January 1953 that
'A Bill limiting the term of office of the Gallery Trustees was to be submitted to the State Cabinet.'
Mr Heffron, announced that, in his view,
'the term of office should be in the vicinity of five and not more than seven years, with the right to reappointment.' He also stated that 'he did not agree with the suggestion that trustees should be compelled to retire at seventy.'
Peter Ross further noted that,
'Apropos of records, enter Bill Dargie in 1952 for a seventh win with a portrait of Essington Lewis. A mini-riot ensued. For young and emerging artists, restless for the new, the Dargie near-monopoly was becoming a scandal.'
Anna Waldmann in her 'Archibald Prize' article in 1982 noted,
'The 1952 win prompted an art students' demonstration. The students, who refused to give their names, with the exception of John Olsen, marched around the Gallery, were photographed in front of Dargie's portrait, gave three cheers for Picasso - and left.'
Deborah Hart in her major work on John Olsen, published in 1991, noted John Olsen's recollection of the event:
'In 1952 the Archibald Prize at the Art Gallery was awarded for the seventh time, to William Dargie; an occurrence which sparked a revolt among younger artists. It was not only the sense of devastating predictability that infuriated these vocal artists, but also the academic nature of the portrait of Essington Lewis, which represented a total lack of vision and support for contemporary ideas.'
John Olsen was at the forefront of the Anti-Archibald demonstration on 24 January 1953, when a group of students (variously estimated as twenty or 'about forty') marched on the gallery. On that day, the Sun reported "Students Brawl at Gallery and a 'violent clash' between students and attendants; one student was taken away for questioning and later released."
The placards held by the students caused amusement among spectators with slogans such as, 'Archibald Decisions Death to Art' and 'Don't Hang Dargie - Hang the Trustees.' The following Monday, the Sydney Morning Herald reported: "Only one, John Olsen revealed his name.
Mr Olsen said
'We realize that nothing will come of our action, but we do not want public apathy to be accepted by the Trustees of the Gallery as an indication that their choice has been vindicated…We've got artists but they don't get a chance. Dargie has nothing to do with art. Dobell has a feeling for art…'
Then Mr Olsen and his colleagues went to a car and selected a banner and placards. A woman produced a Dachshund dog and tied a placard to its lead, which read 'Winner Archibald Prize, William Doggie.'
The students then descended to the Gallery…the dog was ejected."
Dargie, was said to have been aggrieved by the whole event. 'Some bloody journalist spread the word around that I was a very astute businessman and I'd promoted the protest myself for the publicity.'
Essington Lewis was born on 13 January 1881 at Burra Burra, South Australia. He was an industrialist and Director, General Munitions and Aircraft Production, 1941. His factories made grenades, land-mines, ammunition of all types, .303 rifles, machine and sub-machine guns, including the Owen gun and several types of heavy guns. They also made sophisticated optical aids, tanks and torpedoes.
He was BHP Chief Executive 1921-1950; Chairman 1950-1952; and Deputy-Chairman 1952-1961. His life is outlined by Geoffrey Blainey in his work 'The Steel Master', published in 1971, and in a comprehensive five page entry in the 'Australian Dictionary of Biography.'

Blainey, described the young Essington Lewis as being 178cm tall, broad shouldered and handsome. Fair-haired, he was dubbed 'Snowy' by the sporting press, and to his friends he was 'Essie'.
He died on 2 October 1961, at 'Landscape', his 1420 ha property at Tallarook, Victoria. He was cremated after a funeral service held at St. John's Church, Toorak.
Further references to Essington Lewis are '100 Famous Australian Lives' and the 1959 edition of 'Who's Who in Australia'.
Left: Arthur Streeton - Above Us The Great Grave Sky, 1890
Collection: National Gallery of Australia, Canberra.