The Artists
Sir William Dargie
WILLIAM DARGIE
SIR LESLIE McCONNAN 1950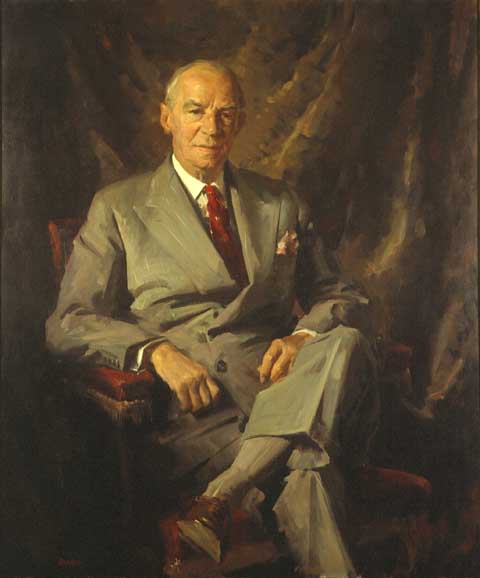 WILLIAM DARGIE
Born 1912
SIR LESLIE McCONNAN 1950
oil on canvas 122 x 102 cm
Collection: National Australia Bank
Cat 280
Sir Leslie James McConnan
Chief Manager 1935 - 1952
Presented to the National Bank of Australiasia Limited by
the members of the staff as a token of their esteem for the Chief Manager June 1950
William Dargie - Archibald Prize 1950
This work was awarded the Archibald Prize for 1950.
The work is illustrated in 'Archibald Prize: Illustrated', published in 1951, plate 4, detail, plate 6; in 'The Archibald Prize' by Anna Waldmann Art and Australia Summer 1982 edition; and in 'Let's Face It: The History of the Archibald Prize' by Peter Ross, published in 1999.
In 'Let's Face It', Peter Ross informs us that Dargie's work was one of 86 selected entries from a total of 175 works submitted for the Archibald Prize.
The prize money for that year was approximately 500 pounds, and the exhibition dates were from 20 January to 4 March 1951.
This was Dargie's sixth Archibald prize-winning portrait, and once again Dargie received harsh treatment from the critics, especially those in Sydney.
Peter Ross notes in 'Let's Face It' that:
'The 1950s began with another victory for the boardroom favourite, William Dargie.
The Bulletin conceded he could 'paint an excellent likeness', and yet there was 'something always missing in a Dargie portrait: imagination, gaiety, and the force of an original mind', complained another critic. Dargie was a craftsman and a stayer, but little more, thought many.'
Sir Leslie McConnan, banker was born on 15 June 1887 at the Manse, Benalla, Victoria and after joining the local branch of the National Bank of Australasia in June 1904, eventually succeeded Sir Ernest Wreford as chief manager of the bank on 1 May 1935.
He was president of the Associated Banks of Victoria, 1938-1939, 1942-1944 and 1947-1949, and was knighted in 1951.
He was a fellow member with Dargie of the Melbourne Savage Club and was also a member of the Melbourne Club.
He retired on 31 July 1952, and he died, following complications after a fall, in the Alfred Hospital, Melbourne on 22 December 1954, and was cremated.
His portrait by William Dargie is held in the National Australia Bank, Melbourne.
Further information on Sir Leslie McConnan can be found in the 'Australian Dictionary of Biography', which also provides references to several other relevant books, and also in the 1950 edition of 'Who's Who in Australia.'
Left: Arthur Streeton - Above Us The Great Grave Sky, 1890
Collection: National Gallery of Australia, Canberra.